All current and incoming college students should be aware of the changes taking place regarding the Free Application for Federal Student Aid, or FAFSA. The 2017-2018 FAFSA will be available to all on Oct. 1, instead of Jan. 1 as in previous years. The site, StudentAid.gov, offers a great deal of information for those applying for federal financial aid.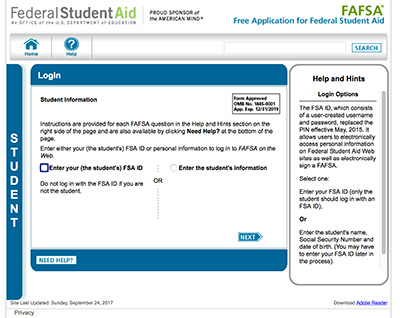 An earlier availability date has benefits for students and their families when it comes to completing the forms. First, this change is permanent, meaning that Oct.1 will be the opening date from now on. Information from the 2016-2017 FAFSA, excluding tax information, will be pre-populated, or transferred over to the new forms. Early submission of the forms allows financial aid offices more time to grant students aid packages and prepare for the upcoming year. This will be especially helpful for new students.
Not all school deadlines will automatically be affected by this date change. It is expected that most school and state deadlines will remain the same as previous years. It is recommended that students check the state deadlines at www.fafsa.gov to be aware of any changes. States that offer first-come, first-serve financial aid will note the phrase "as soon as possible after Oct. 1," instead of Jan 1. as in previous years. This change in FAFSA's opening date is also an opportunity for families to take time to thoroughly research and weigh all their options without feeling the pressure of time.
The required income and tax information for the upcoming year will be submitted from 2015. Because the government is asking for older tax information, the process should be easier because those forms should already be completed. Thus, families should be able to use the IRS Data Retrieval Tool (IRS DRT) to extract that information quickly into the FAFSA forms.
If there have been any drastic changes in family situations, students are still required to input the tax information from 2015. Any changes should be reflected in the answers to the questions on the forms. If that does not provide enough specific information, students should contact the financial aid offices of all schools to which they are applying.
All schools being considered by students should be listed on one's FAFSA. Any additional schools can be added at any time. Applying early does not guarantee that the school will send any offers early. More information and help can be found at www.fafsa.gov and www.StudentAid.gov/fafsa.