One of Stevenson's English professors spends much of her time exploring the endless possibilities of teaching with virtual reality (VR) inside and outside of the classroom.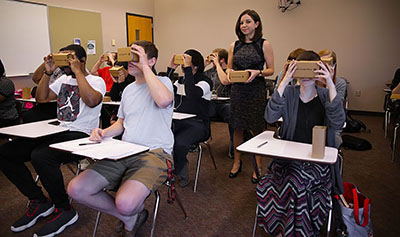 Dr. Amanda Licastro, assistant professor of digital rhetoric, implements VR into all of her courses.
According to the dictionary.com definition, VR is "the computer-generated simulation of a three-dimensional image or environment that can be interacted with in a seemingly real or physical way by a person using special electronic equipment."
Licastro's interest in VR began when she received a copy of the November 2015 edition of "The New York Times," which included a free pair of cardboard VR goggles as a visual storytelling method for its articles.
"As soon as I saw what The New York Times was able to do with virtual reality, I knew I needed to bring it to my digital publishing class," she said.
Licastro believes that VR is the future of digital publishing, and students who may be interested in this field need to know how virtual reality works.
However, after further exploration, Licastro realized that VR should not only be offered to students in digital publishing, but that all the different paths of study at Stevenson could benefit from this technology in their curriculum.
Licastro's passion for VR inspired her to write a Stevenson University grant proposal, and the college then awarded her a grant to purchase the HTC vive, a VR head device. She also wrote to The New York Times explaining how she was implementing VR in her classes, and they gifted her 35 cardboard goggles which has allowed her to expand her demonstrations to classes beyond just her own.
Alongside Licastro, a team of four student researchers and one student intern work to find applications that other Stevenson professors would be able to use in their classrooms.
With 23 classes expressing interest in VR, Licastro and her student researchers will lead demonstrations to educate professors and students regarding the potential this technology has for each major.
For example, nursing students could use VR to watch digital surgeries, and public history majors could transport themselves to a particular historical era.
In addition to implementing VR into various courses, Licastro attended the highly competitive 2017 Digital Humanities Conference in Montreal, Canada. Out of 2,000 recipients who submitted their work, Licastro won the Alliance of Digital Humanities Organizations' (ADHO) Paul Fortier prize for her paper entitled "Teaching Empathy through Virtual Reality."
Licastro has also received the Innovative Teaching with Technology Award from Stevenson, and the Calder Award for Digital Humanities for her dissertation in multimodal writing.
Licastro currently teaches English Composition and Writing from a Source, a special topics class called the Cyborg Apocalypse, and an upper-level English course about teaching empathy. In the spring she will teach digital publishing along with a course titled "Publishing from Gutenberg to Google."
She hopes that through teaching and using VR in the classroom, she can encourage students to become more curious, inquisitive, and open to learning new skills outside of their comfort zones.