Large black and white expressive photos of students cover the outside of the Dawson Center on the Greenspring campus in Stevenson University's newest art exhibition, "Inside Out."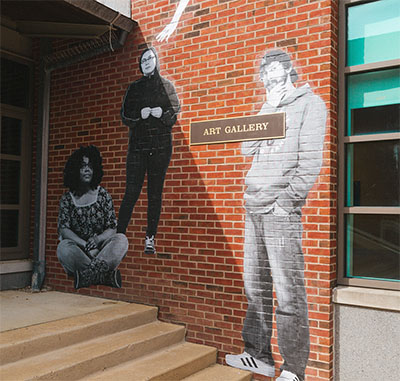 The idea for the new installation emerged from an internationally recognized art project by the street artist JR. "Inside Out" is "a global art project transforming messages of personal identity into works of art," according to the Inside Out website.
The goal of the project is to create an impact, spread messages, and to encourage meaningful conversations on campus about diversity, equality, individuality, and world affairs, according to Chris Metzger, assistant professor of art and visual communication design, and Lacey DeJordy, a junior fashion design student.
"This is the time in people's lives that they need to be exposed to alternate ways of thinking," said Metzger.
Another goal of the project is to expose students to something they have not seen before. Metzger would like to use the art to help practice and facilitate diversity and inclusion on the Stevenson University campus.
"To me, this is more of a starting point, since I began teaching here, that has become one of the challenges of how we can have this kind of dialogue in the classroom, and art is one way to do that…which can help facilitate that dialogue," said Metzger.
At the end of the fall 2016 semester, Metzger introduced the project to the students and gathered feedback. In the spring 2016 semester, Metzger submitted a proposal for the project. Following the proposal, he and the team made mock-ups, design layouts, and picked a location for the installation.
The Dawson Center was selected because it offers a blank canvas and good visibility from the parking lot, said DeJordy.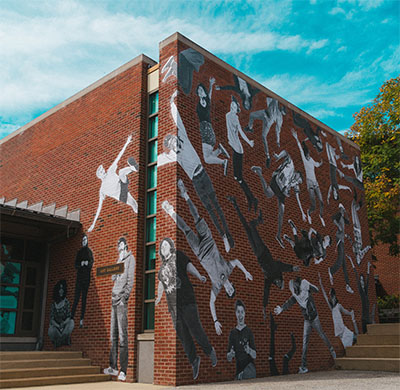 The next step included the photographing of between 40 and 50 Stevenson students from all majors. The two basic digital photography classes and DeJordy took the photos throughout the spring 2017 semester and the summer of 2017 . DeJordy then collected the images and edited them for the final project.
Later, 28 final photographs were selected for the installation. After printing and precise cutting, the images were ready for pasting, which took place on Sept. 15 and 17.
The hope is that the project will stay up throughout the entire semester, but "the outcome is dependent on the weather," Metzger said.
Down the line, Metzger and DeJordy aim to expand the installation to the Owings Mills campus, hoping to find an impactful place that provides a unique canvas.
The reception for the "Inside Out" project will be held Oct. 5 from 6-8 p.m. in the St. Paul Companies Pavilion on the Greenspring campus.