Stevenson University has 27 athletic teams that compete in the NCAA, with six athletic trainers divided among these teams. Each team has one athletic trainer assigned to work with them.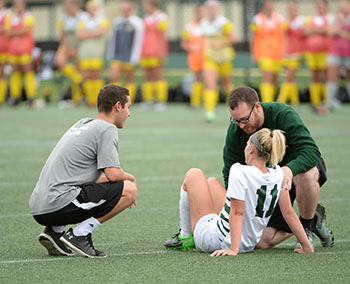 All athletic trainers at Stevenson have their bachelor's or master's degree in athletic training and are certified ATC in the field.
One of the six athletic trainers at Stevenson is Conor Trainor, who earned a bachelor's degree in athletic training at Towson University and a master's from Temple University. While in graduate school, Trainor gained experience as the graduate assistant for club sports at Drexel University. Just like most athletic trainers, Trainor chose to become one because he likes to work with college athletes; "They [athletes] want to get better and get back into the game as soon as possible," he said.
Trainor has been an athletic trainer at Stevenson for three years. He works directly with men's ice hockey, women's soccer, men's volleyball, men's and women's tennis, and golf. All of the athletic trainers at Stevenson work with more than one athletic team, usually in different seasons.
"If I have two teams that overlap in a season, then I have to help the team that has the higher injuries and is the higher contact sport," he explained.
The athletic trainers have a different schedules based on the athletic team with whom they are working. Athletic trainers are always in the training room an hour before a team's practice so that athletes are able to roll out their muscles, get taped or get physical therapy.  On a day that a team has a game, the schedule is different. They would arrive earlier to set up for their own players and for visiting teams, including water jugs and medical equipment for the players. Athletic trainers are also required to travel with the team for road games.
"A trainer's job is to keep the athletes healthy and on the field," said Trainor. The athletic trainers teach athletes techniques to stay healthy, such as stretches and other patient care.
Athletic trainers not only determine injuries, but they help to rehabilitate students.
Kellen Wittman, a senior on the woman's soccer team, suffered from a torn ACL injury last season,  and explained, "They encouraged and pushed me to my limits everyday so I could be back to 100 percent. All of our athletes wouldn't be where they're at today, without the dedication they [athletic trainers] put in day in and day out."