With one meet under their belt against Widener University, the men's and women's swim teams' main focus is on improving as the season progresses.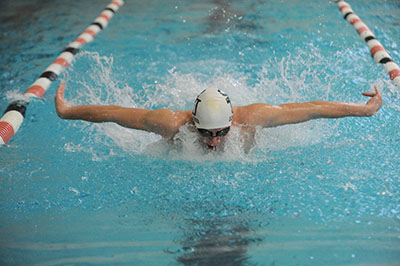 On Oct. 8, the team suffered an upset to Widener with the women's team finishing 170-85 and the men's team finishing 220-10.
Junior swimmer Colby Stein was recognized for her two individual wins: first place in the 100-yard and 200-yard backstroke.  Stein's personal success continued when she also took third place in the 50 freestyle.
Two other major individual wins came from junior Julianna Burnett and sophomore Melanie Milam.  For the men's team, senior Zachery Cather had three fourth-place finishes.
With a tough year of training last year, the swimmers know what to expect in practices as well as the results they will receive, according to coach John Stuhltrager, who said, "The knowledge that if they work hard, it will pay off at the end of the season instead of hoping that it'll payoff is important." Not only do the swimmers practice five days a week at 6 a.m. at McDonogh School near Reisterstown Road, they also have other workouts to keep themselves in shape.
Stuhltrager explained how the women's and men's teams will fare in the Middle Atlantic Conference this year.  He believes that the women's team will be very competitive, especially coming off  a fourth-place finish last year, making them hungry for a top-three this coming year.
On the other hand, due to the small size of the men's team, Stuhltrager hopes to score competitively individually in the conference, knowing they will struggle within as a team.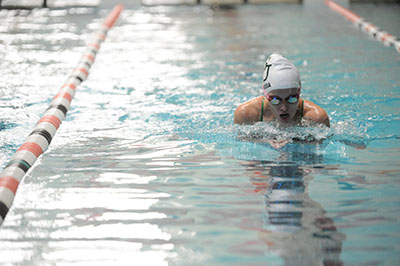 Since the team is still fairly new, growing leadership has a huge impact on the team.  With leadership comes accountability, not only for the team as a whole, but for the swimmers individually.  Holding their teammates accountable in their practices, for their grades, and in their lives outside of swimming is very important, said Stuhltrager.
One person's attitude can affect the entire team in both negative and positive ways. Stuhltrager explained how he often emphasizes to his team how much a positive attitude can help a team get through a difficult practice and or meet.
The Mustangs will host the next meet, swimming against Frostburg State University, Hood College, and Goucher College on Saturday, Oct. 21.