Dim the lights, make some popcorn and get cozy as the annual spooktacular 13 Nights of Halloween premieres on the Freeform network. This frighteningly fun television marathon will begin airing on Oct. 19 and continue through Halloween night.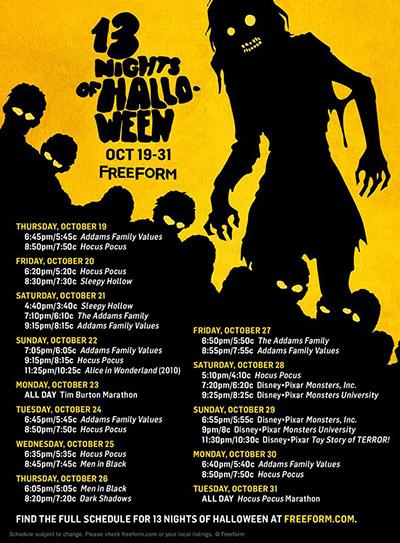 This year will mark 19 years of 13 Nights of Halloween. The seasonal marathon originated on the channel formerly known as ABC Family, which has recently been rebranded as the Freeform network, and continues to be a fan favorite.
In the span of almost two weeks, Freeform will offer a wide variety of TV shows and movies. From classics such as "Halloweentown" and "The Addams Family" to newer hits like "Frankenweenie" and "The Twilight Saga: Breaking Dawn," there will be something for everyone to love during 13 Nights of Halloween.
In the forecast, viewers can expect the television schedule to include more than 13 showings of the holiday favorite, "Hocus Pocus," eventually leading up to an all-day "Hocus Pocus" marathon starting at noon Halloween day. Another highlight includes an all-day showing of Tim Burton's creatively creepy films on Oct. 23. Be prepared for films such as "Edward Scissorhands," "Dark Shadows," "Sleepy Hollow" and "The Nightmare Before Christmas," just to name a few.
In addition to these Halloween classics, this television extravaganza offers other movie and TV show genres as well. Freeform will mix in movies and shows including the Harry Potter series, the new "Alice in Wonderland," "The Middle," "Last Man Standing," "Men in Black," "Charlie and the Chocolate Factory," "Matilda," "The Sorcerer's Apprentice" and much more.
Of course, along with all the scary horror movies, the 13 Nights of Halloween also includes an array of fun family favorites that viewers of all ages can enjoy. Films such as "ParaNorman," "Scooby-Doo," "Spooky Buddies," "Monsters, Inc.," "Monsters University" and "Toy Story" will be sure to provide a family-friendly movie night.
Those looking for even more Halloween-themed fun are in luck. Right now, Freeform's website is dedicated to the 13 Nights of Halloween and includes movies to stream, quizzes to take, articles to read, videos to watch and other special content to celebrate the spooky season.
Want a night-by-night list of every showing and want their times during 13 Nights of Halloween? Just visit Freeform's website to get all the details to enjoy this Halloween festivity!