Heading into week seven a year ago, Stevenson University's 2016 MAC championship-winning football team was undefeated but preparing to face their biggest competitors of the season and eventually their first loss.
This season, coming off a bye week, the team has a 3-2 record with losses to Frostburg State University and Delaware Valley College, both nationally ranked teams.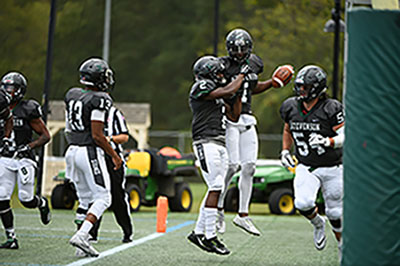 Ryan Larsen, assistant coach and offensive coordinator,  emphasized how young this year's team is compared to last year's. With the loss of 10 seniors including first-team All American Austin Tennessee and 2015 first-team All Conference Billy Lewis, the team lost many experienced players.
"We had a lot of guys on that team who played a lot of football," said Larsen, who added that he's excited to have the bye week to evaluate the season and see what the next steps are moving forward. He added that the coaching staff believes that as the season has progressed, the team has gotten better and the staff has seen improvements each week.
The comparison of last year's MAC championship-winning team to this year's program is hard to do. Stevenson's football program this year is the youngest it has been in years, and the coaching staff as well as the team are working to develop the younger players to establish a base for the coming years. However, next year Larsen believes that the maturity level that will be developed through this year will allow for a stronger team.
Larsen said that the football program's biggest competition is themselves. Contributing to this are extensive injuries, besides the team's youth.  In the team's preparations for the Oct. 14 game at Lebanon Valley College, Larsen doesn't understate the importance of the game.
"There is a big difference in being 4-2 versus 3-3," he explained. "LVC never gives you anything. You have to fight for every yard. They're a well-coached group of kids who are gritty on the field," he added.
The ECAC honored two Mustangs for the week of Oct. 4. Junior quarterback Dan Williams was named the ECAC South Offensive Player of the Week, while freshman kicker Ian Gould was named the ECAC South Rookie of the Week. Earlier in the season, Williams was named the Middle Atlantic Conference Player of the Week after throwing for 396 yards and five touchdowns against Misericordia University.
Larsen looks forward to the rest of the 2017 season, and is confident that the group of young men on this team can become something special if they are dedicated in their efforts on the field.