The Asian Culture Club will host an Indian holiday, Diwali, on Sunday, Oct. 22 in the Ratcliffe Community Center at Stevenson University from 6-8 p.m.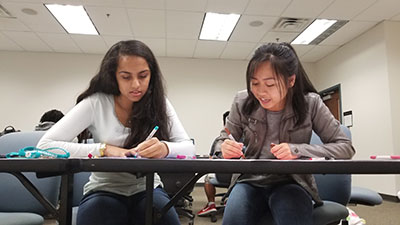 Diwali is a word for "festivals of light" in Hindi; the festival celebrates good defeating evil, specifically the legend of the Hindu God Rama and his wife, Sita, returning home after defeating Ravana, the demon king. Diwali is also one of the most important holidays in Indian culture.  The celebration spans a five-day period, with the fourth day being Hindu New Year's, which is the most popular, and it is recognized as a celebration of new beginnings. Diwali is also the time to honor Lakshmi, the goddess of wealth and prosperity.
Dawn Lucas, president of the Asian Culture Club, said, "celebrating Diwali will be a great educational experience for people to learn more about Indian culture. Our goal for this event is to teach our fellow peers Indian culture and have them experience the holiday firsthand in a fun, public atmosphere."
During the event, the club will offer several activities including henna tattoos, a craft station where people can decorate their own candle jars, an Indian dance performance, and several Indian sweets and snacks for people to enjoy.
Shimul Patel, secretary of the Asian Culture Club, said "Diwali's literal translation in Hindi is 'good defeats evil' and there is no other holiday that compares to this holiday. Probably the closest holiday compared to Diwali is celebrating New Year's Eve in December."  As a person of Indian heritage, she said this is a holiday that she celebrates with her family and wants to share the experience she has had with her family with the students of Stevenson University.
Celebrating Diwali is one way that the club follows the university's mission statement on diversity through social and educational meetings and events.  This event specifically pertains to Asian culture. As a function hosted by a Stevenson University club, Diwali will help members spread awareness of who they are and what they do. The club expects a good turnout to celebrate the holiday.
Patel said, "We love meeting new people. That's why the club was created. Having a Diwali celebration will allow other people to socialize and help other students learn how to be more diverse and learn more about Asian cultures."
The Asian Culture Club meets every Friday from 3-4 p.m. in School of Business and Leadership, room 301. The Diwali event is free. To learn more about the club, or to get involved, contact [email protected] for more information.