The Office of Career Services at Stevenson University offers Business Breakfast Hours to encourage students to build relationships with employers and discover internship and career opportunities, according to Jennifer Wheeler, industry specialist for the Brown School of Business and Leadership.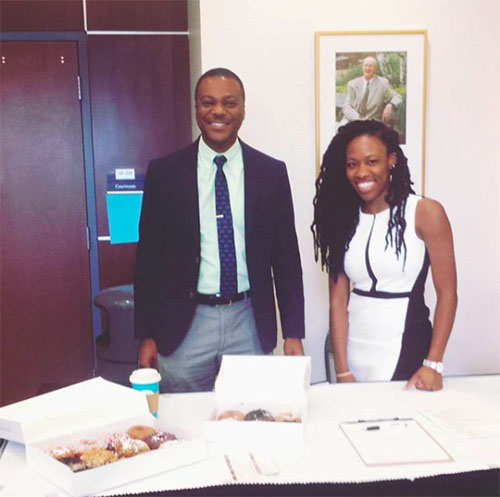 Business Breakfast Hours are frequent, informal networking events held in the lobby of the Brown School of Business and Leadership. The events take place from 9-11 a.m. on most Tuesdays and Thursdays.
Businesses from around the area provide breakfast and insights regarding available internships and career opportunities for current students. The events allow students to chat with different employers in a casual setting.
"Not only do I love free breakfast, but I enjoy developing connections with real employers in a no-pressure environment," said Chris Telman, a senior digital marketing major. Telman said that he has met over 15 different employers at the Business Breakfast Hours during his time at Stevenson.
The hosting employers provide an easy on-the-go breakfast of their choice, generally coffee and doughnuts, which students can enjoy while discussing future possibilities within the company.
Wheeler explained that the hosts are a blend of employers and alumni. Last year, companies, including Enterprise, Northwestern Mutual, Medifast, Wegmans and others came to campus to speak with students.
Wheeler said, "Always stop by, not just for the doughnuts but to learn about the companies, because you never know what opportunities may present themselves at these events."
Wheeler also strongly encourages students to check out the multi-service tool of Handshake and contact her via campus email or set up an appointment with her via Handshake to suggest ideas for future Business Breakfast Hours.
Students and faculty of all majors can locate the schedule of employers and organizations attending the upcoming Business Breakfast Hours here, in the events section on Handshake.
Upcoming Business Breakfast Hours will feature Travelers, a leading property insurer, scheduled for Tuesday, Oct. 24 at 9 a.m. Mary Kraft Staffing, a full-service HR provider, will return to Owings Mills on Thursday, Oct. 26 at 9 a.m. The month of November will feature a variety of businesses from several fields.