The Stevenson men's soccer team is looking to finish the season strong after they were eliminated from playoff contention on Wednesday.  The Mustangs have one conference game remaining on their regular season schedule.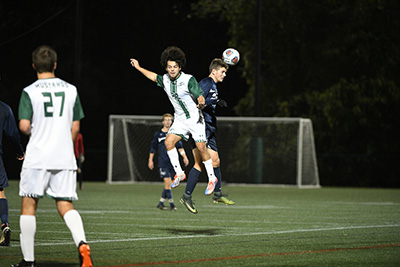 After a 3-0 conference loss to Alvernia University on Oct. 25, the Mustangs are still confident that they can close out their season on a positive note.
"They have what it takes to be a playoff team," said head coach Graeme Millar.
The Mustangs have a record of 2-5 in the Middle Atlantic Conference (MAC) and are 3-11-2 overall. With three MAC Commonwealth teams currently ranked in the top 10 of the region and two teams named in the top 10 of the country, Millar noted how the MAC Commonwealth conference is one of the toughest in the nation.
Freshman Tariq Lee scored two back-to-back game-winning overtime goals for the Mustangs against conference opponents Widener University and Hood College. Following the Hood game, the Mustangs played Arcadia University, and senior goalkeeper Jake Brown totaled 19 saves in two combined games. Shortly after the Arcadia game, Brown was named MAC Commonwealth Defensive Player of the Week.
After a 4-1 loss to Lycoming College, the Mustangs were tied for fifth place in the MAC Commonwealth with six points. The Mustangs kept the game competitive and held nationally ranked Lycoming to a 1-1 score for the first 83 minutes of the regulation 90.
"If we are going to finish strong and succeed in our final contest, we will need to remember how those last seven minutes [of the Lycoming game] felt and change the outcome of our game," said senior captain Eric Dorsey. The last time the men's soccer program was in the playoffs was in the 2011 season when they were in a different conference, the Capital Athletic Conference.
The Mustangs head into practice, ready to "work on the little things," said Millar, in preparation for their last regular season game against Messiah College.
"If we out-work Messiah and show our true potential, I have no doubt we will earn a big win and end our season with some confidence," said Dorsey. With full confidence in his team, Millar added, "We will be ready."
The Mustangs are away at Messiah College on Oct. 28 at 7:30 p.m.