Game sequel empowers global community
The world of video games is expanding beyond its usual home — in our homes — into a global community.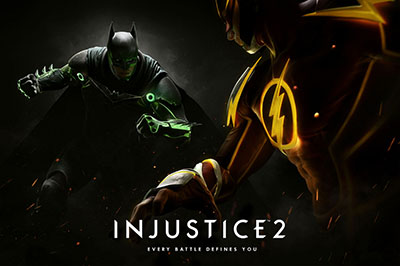 "Injustice 2" is the sequel to "Injustice: Gods Among Us," a two-dimensional fighting game developed and released by NetherRealm Studios. The company was founded by Ed Boon, who is also responsible for starting the successful fighting game series "Mortal Kombat."
In contrast to the blood and gore of "Mortal Kombat," "Injustice 2" provides an array of flashy moves, gadgets and powers performed by many fan-favorite DC Comics superheroes and villains.
Batman and Superman have an ongoing disagreement on the true meaning of justice, prompting them to create competing teams of heroes and villains alike. The alien, Brainiac, who destroyed Superman's home planet, now threatens Earth, forcing the two sides to unite and protect Earth.
Players enter a world where characters including Wonder Woman, Robin, the Joker and Harley Quinn engage in heated one-on-one combat battles against each other, the twist being that the terms 'hero' and 'villain' change depending on which side players choose. Along with well-known DC Comics characters, some fan-favorite "Mortal Kombat" characters like Sub Zero are now playable, thanks to downloadable content available after the game's release.
In recent years, fighting game competitions have increased in participation and popularity. The most notable one is the Evolution Championship series, or EVO for short, which takes place every summer in Las Vegas. Open to any competitors, the tournament is in a double-elimination format. This year's winner, Ryan "Dragon" Walker, 19, earned $35,280 for placing first in "Injustice 2."
Due to the rising popularity of competitions, NetherRealm Studios has provided a practice mode with an extensive list of settings for computer commands and reactions. With this list, players can simulate anything from character match-ups to the best moves that fit different situations. These options are available to all players, making it possible for participants of any skill level to reach a 'pro' status if they put in the time and effort.
The new customization system offers many ways to personalize players' favorite characters. Players earn random equipable pieces, which hold different levels of rarity and strength. Certain combinations of pieces will unlock stronger statistics for characters in four areas: strength, ability, defense and health. As players rank up, so can their pieces in two ways: players can simply be given high-level pieces at random for completing matches, or they can upgrade pieces to match their current level.
Costume skins are also of great importance among players. Inspirations for skins came from many areas, including old comic book, television and movie appearances. Some skins even allow players to compete as other characters. For example, players have the option to play as Superman, or as his counterpart Bizarro.
"Injustice 2" is currently available for the PS4 and Xbox One gaming systems.
Leave a Comment
Donate to Stevenson Villager
Your donation will support the student journalists of Stevenson University. Your contribution will allow us to purchase equipment and cover our annual website hosting costs.