Halloween is around the corner, and sooner or later students will see some furry, flying bats nestled in their new homes along the Dell Family Pathway connecting both ends of the Owings Mills campus.
Students in Stevenson's Environmental Ethics class, a service learning course, were required to pick any project to complete relating to the environment.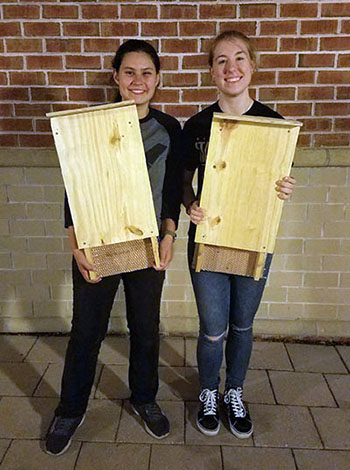 Specifically, Laura Brezinski, class of 2019, with the help of Julianne Parker, created the idea of constructing two-feet-long bat boxes because of her passion for bats. Bat boxes are the same concept as bird houses, by which bats can simply fly into their homes for safety.
"The boxes will be a rectangular shape, and the bottom of the box will have a hole cut in it for the bats to enter," said Brezinski. Unlike birds, bats have to crawl into holes instead of fly into them, due to their anatomy.
Brezinski's idea "just blossomed and has been growing, and everybody is getting exciting, said Parker.  "It's completely different from what everybody else is doing," she added.
White-nose syndrome is a fungus that can alter bats' flight and hibernation patterns. "If they are not protected, then they can die, and we need bats to kill bugs. They are generally good for the environment," said Brezinski.
The bat box idea came about as the two science students wanted to create a safe outlet for bats.
The building of the bat boxes took place during Sustainability Week and was completed in late October. Students gathered voluntarily to build these rectangular bird-like houses constructed mainly of wood and a metal mesh to act like a ladder so the bats can climb up into the box.
"Wood is easy to work with, and this material is more attractive to the bats," said Brezinski. All those who worked on the bat boxes are partnering with the Environmental Club to promote the idea to Stevenson students by sending out crafty flyers with a description of their project.
The bats can use their bat "homes" to sleep in during the day and hibernate in during the winter to prevent the white-nose syndrome, which thrives in cold environments outdoors where bats hibernate, according to whitenosesyndrome.org.
Soon students will see the bat boxes placed along the Dell Family Pathway, labeled with the title "Bat Boxes," underneath the description of what they are. Students will not only learn about these bat box homes but may also develop a new respect for the idea. The boxes will remain up all year in trees hanging about 15 feet above ground level, in order to reduce disturbance to these bat habitats.
For more information, students can check flyers and keep on the lookout for announcements in Rockland for more information. Students can also email environmental science alumni Diamonique Clark '16, Laura Brezinski, or Julianne Parker to learn more about bats and the impact of bat boxes around Stevenson's campus.
SaveSave