The Best Buddies Club, in partnership with Stevenson's Male Initiative of Leadership and Excellence club (M.I.L.E.), will host its fourth annual 'Friendsgiving' event on Nov. 11 from 3-5 p.m. in the Ratcliffe Community Center on the Owings Mills campus.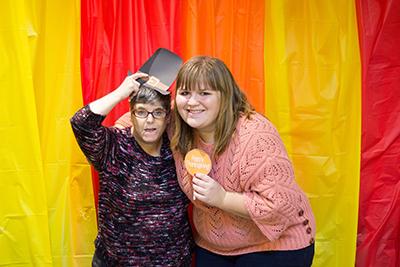 Best Buddies "is a nonprofit organization dedicated to establishing a global volunteer movement that creates opportunities for one-to-one friendships, integrated employment and leadership development for people with intellectual and developmental disabilities. Best Buddies is the world's largest organization dedicated to ending the social, physical and economic isolation of the 200 million people with intellectual and developmental disabilities," according to Best Buddies.org.
Stevenson students within the club can be associate members or peer buddies.  Those students who are peer buddies are assigned a buddy and are considered their mentor and, more importantly, friend through the remainder of the year.
M.I.L.E. prepares young males for life after college.  The organization focuses on career preparation, academics, a strong brotherhood and a positive male image.
Senior Bryson Barksdale, president of M.I.L.E., says the group serves as strong male figures for the buddies.  The Best Buddies program is comprised mostly of women, so it is important to demonstrate the male leadership skills M.I.L.E. has to offer.
The two organizations work together to throw a Thanksgiving celebration for the buddies and students.  Sophomore Kayleigh Russell, treasurer of the Best Buddies Club, said,"Best Buddies puts on 'Friendsgiving' for the same reason we all celebrate thanksgiving with our families – to be around those who you are grateful for the most and to have fun and eat some really good food while doing so!"
During the event, the students and their buddies will help prepare a traditional Thanksgiving meal, including a full-sized turkey.  All buddies will be able to cook portions of the meal, something they may not be accustomed to in their daily life.  There will also be games and crafts scheduled throughout the event, as well as a photo booth, Russell added.
M.I.L.E will primarily focus on the entertainment for the event this year and has planned a number of fun things for both the buddies and their peer mentors to enjoy.  The crafts include creating turkeys out of brown paper bags and popsicle sticks, coloring and finger-painting canvases and creating gingerbread houses.
Russell said,"Personally, I just love the atmosphere. While all of our events are fun, 'Friendsgiving' is our biggest event of the school year and so many people look forward to it. The food is amazing, and you look around and see nothing but smiles on everyone's faces which makes me smile as well."