In Stevenson University's upcoming BioBlitz on Nov. 4 at Baxter Farm, participants will have an opportunity to contribute to the cataloging of local species near the Monocacy River. The event will run from 9:30 a.m. to 3:30 p.m.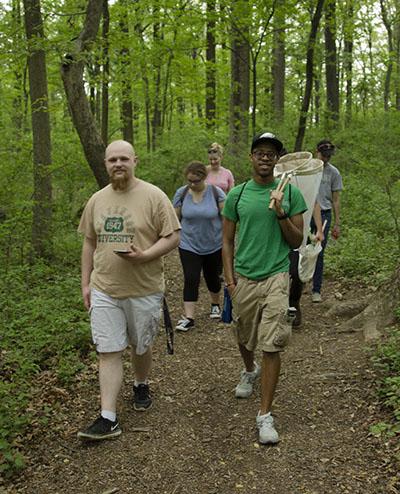 BioBlitz is an event where students, faculty, volunteer scientists, and other volunteers spend time in a region working together to catalog as many different plants, animals, fungi, insects, and other organisms within the allotted amount of time.
After data has been gathered, all the information from the event is included in the iNaturalist app. This application is dedicated to gathering information on organisms in various environments and can be used by other people to verify the data in an effort to make sure that it is 'research grade.' Essentially, the data can be confirmed if the same organisms have been found in the same region.
Anyone in middle school or older may participate, though those under 18 years old must be accompanied by a parent. Those seeking to participate can email [email protected]. In addition, the chair of the humanities and department of public history, Dr. Glenn T. Johnston, is offering a shuttle for students who are interested in attending the event. He can be contacted through campus email if a shuttle ride is necessary. For those who are driving, the address is 827 Park Mills Rd, Dickerson, Md.
Dr. Kimberly Tucker, the director of the Center for Environmental Sustainability at Stevenson University and one of the professors taking part in the BioBlitz, recommended that people should dress in boots (or any close-toed shoe), long pants (such as jeans or hiking pants), a long shirt or T-shirt of some kind, and gloves if they have them.
The BioBlitz event is also providing several benefits for several Stevenson students as well. For example, Johnston has been working with some students on documenting the history of Baxter Farm as part of a project. According to Johnston, the farm was established in the late 1700s, holding historical significance. In addition, students from BIO-235 will be analyzing data gathered from the BioBlitz after its conclusion. Not only will this event raise awareness about this relatively unknown piece of history in Maryland, but it will also provide a learning experience for participants.