Stable Talk Podcast engages athletes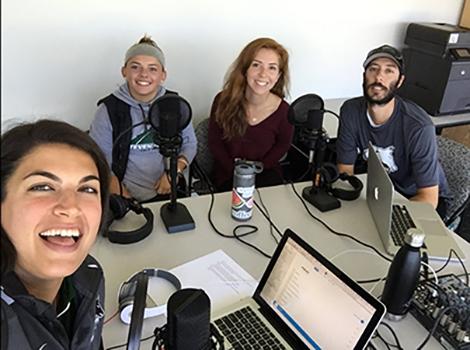 Students and fans alike have a new outlet to follow the latest and greatest of Mustang athletics by tuning into the podcast, Stable Talk. Assistant athletics communication director Samantha Murray and athletics video producer Joe Wamba came together in the summer of 2017 to share their innovative idea for Stevenson athletics.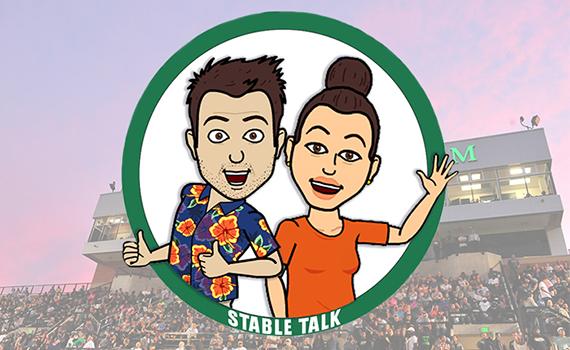 After spending countless hours creating and producing the coaches' shows following each game, Murray and Wamba thought that there had to be a more creative outlet for all of the casual conversations happening between takes. Thus, the podcast idea grew.
"I always talk to the coaches about what is going on in their program so that I can interview them properly. We just knew that there would be a better format for these takes and that could be a podcast," said Wamba.
THE PODCAST'S ORIGINS
About the inspiration for the podcast, Murray continued, "Any time Tracy [Johnson], our ice hockey coach, was up here for her interviews, we would mess around afterwards. It is something we kind of talked about doing all of last year and this summer decided to just try it out." Stable Talk is a podcast hosted by Murray and Wamba featuring student-athletes, coaches, and athletics staff. The podcast allows listeners to get to know these guests on a more intimate level.
GUESTS ON PODCASTS
Guests have included student-athletes across all sports, coaches, athletics staff, athletic trainers and even Brett Adams, athletic director. Murray and Wamba said they choose to focus on those sports that are in season and especially those that don't receive as much publicity on traditional news outlets. There are few people connected to all sports, and both Murray and Wamba fall into that category. One other person is extremely well connected on campus and showed an interest early on "Morgan Somerville [director of student engagement] loves podcasts and is an avid listener so we had to have her on the show," said Wamba.
Both agreed that the podcast format allows them to understand the players and coaches as well as the sport in a relaxed setting. "We get to know them on a different level and understand another dynamic outside of the sport," said Murray.
"It helps us to know the student athletes and for the student athletes to know us. Be able to say hi in the hallways. It helps us to do our jobs better," continued Wamba.
AN ENJOYABLE EXPERIENCE
Student athletes have thoroughly enjoyed the experience as well. Senior quarterback Daniel Williams said, "It was definitely an honor to have been on the show with Joe and Sam. They did a great job with the questions and made it interactive. It was so much like a normal conversation that you almost forgot you were on a radio show." Sophomore field hockey athlete Tanner Ridgely added, "All of the personalized questions were fun. The podcast really allowed people to get to know me as a person off the field."
Looking to the future, both hosts agree that they will never run out of people to interview. Murray points out that the campus is wide and there are endless opportunities for partnerships away from athletics. She added that they understand their roots and their main group of listeners are the student athletes and their families. Wamba added, "We have 700+ student athletes, graduate assistants, hall-of-famers, and we always have people to jump in and co-host."
FUTURE PODCASTS
The hosts overwhelmingly agreed that Stable Talk will feature the likes of M.C. McFadden, assistant athletic director and  strength and conditioning coach, and new baseball coach Dave Gage in the near future. The list of potential guests is always evolving and growing due to the excitement within Mustang athletics. Wamba knows there is something special with their unique podcast: "I think one of our big points of emphasis at Stevenson in general is to be ahead of the wave. I think some other schools and universities in the area may try to follow suit. That's always our goal — to be ahead of it."
Podcasts are released every Wednesday and can be found on gomustangsports.com. Fans can keep up with guests and the quirky co-hosts on twitter @Stable_Talk.
Leave a Comment
Donate to Stevenson Villager
Your donation will support the student journalists of Stevenson University. Your contribution will allow us to purchase equipment and cover our annual website hosting costs.