The tenth annual Shapiro/Rouse lecture will be held on Tuesday, Nov. 14, at 7 p.m. in the Rockland banquet hall. To celebrate the event's tenth anniversary, the speaker this year will be the man who started it all, Ronald M. Shapiro himself.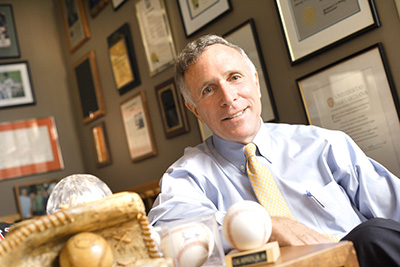 According to his biographical information, Shapiro is an author, negotiator, attorney, educator, sports agent, and civic leader. He is a New York Times best-selling author of four award-winning books, and a cum laude graduate of Harvard Law School where he later taught. In addition, he is a sports agent for legendary athletes including Cal Ripken, Jr., Kirby Puckett, Brooks Robinson, Eddie Murray, and Jim Palmer.
In 1995, Shapiro founded the Shapiro Negotiations Institute. According to the Shapiro Negotiations Institute's website, "USA TODAY called Shapiro 'one of baseball's most respected agent-attorneys, and the Sporting News named him one of the '100 most powerful people in sports.'"
In 2007, Shapiro and his wife Kathryn endowed a gift to the Stevenson University business communication department. The gift was used to create a lecture series sharing the name of the Shapiro family and former business communication department chair, Chip Rouse. The Shapiro gift allows the department to bring in a local business person to speak at the at the lecture each year.
Ten years ago Shapiro was the first person to give the lecture, but since then has been either in the audience or offered suggestions for potential speakers. In years past, speakers typically have had backgrounds in marketing, public relations, event planning, management, and advertising.
Some of the past speakers have included Kevin Byrne, the senior vice president of public and community relations at the Baltimore Ravens; Steve Battista, senior vice president of brand/creative at Under Armour; and Jayne Miller, the lead investigative reporter with WBAL-TV.
This year, to celebrate Shapiro's return as a speaker, the lecture will be more of a conversation with questions from members of the Villager's editorial staff, and those from the audience. According to Rouse, the prepared questions will ask Shapiro to talk about everything from negotiation challenges to what is it like to have major league athletes as clients. Additionally, this year's lecture will allow the audience to ask questions about anything that wasn't already covered earlier in the conversation.
Despite its appeal to most business and business communication majors, the lecture is open to all students.
The event typically brings in between 80-110 people each year and lasts about an hour. After the lecture, there is a reception which gives attendees a chance to have a quick individual conversation with the speaker.
For more information on the tenth annual Shapiro/Rouse lecture, contact Chip Rouse, associate professor of business communication.