The Stevenson University football team hopes to win their last game of the season for a chance at a bowl bid.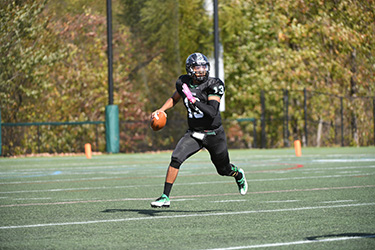 The football team heads into their last game with a 5-4 record. While a bowl game is possible for the team, the goal is to focus on the final regular season game because they cannot control external factors that affect a post-season chance, according to Jake Spalik, Stevenson's wide receivers coach. The Mustangs will take on Lycoming (4-5) on Nov 11, 2017, at noon.
Last season, the team went 9-1 to win the MAC title. With the loss of 10 seniors from 2016, the Mustangs have been forced to overcome a lot.
"We have been a resilient group that has been able to respond well to adversity from week to week," said Spalik. The team did not face much loss last season but have lost four games thus far this season. As a team, their biggest strength is not giving up, even when they are down, according to Sophomore tight end Riley Hodge. Sophomore center Tim Craig said that the offense has been a huge factor in the team's success this season. He credited the offensive line for stepping up this season after nearly the entire line changed since 2016.
While losing 10 seniors offered a significant setback to the Mustangs, the team has had other challenges as well. Injuries have kept many players sidelined. Hodge added that many of the seniors they lost were leaders on and off the field, so some leadership roles were vacant at the start of the season.
Even through these hardships, the team has moved past their struggles, according to Craig. Spalik said that the "next man up" mentality has remained in place through the entire season, allowing players to take on new roles and responsibilities.
Spalik, Hodge, and Craig emphasized the importance of the word resilience. Sophomore center Jack Innis said that the team focuses on being resilient during every game, and recover quickly from setbacks. Hodge said that even during their worst moments of the season, the team gave great effort all the way until the end of the game.
Looking forward to next season, Hodge said he hopes that the Mustangs will step up into new leadership roles. Most importantly, he said, the team will continue to take on new challenges with the same demeanor as this year.