First-year residents in Western Run, Susquehanna, and Patapsco halls can look forward to delicious food and relaxing music at the upcoming Faculty in the Halls Thanksgiving dinners.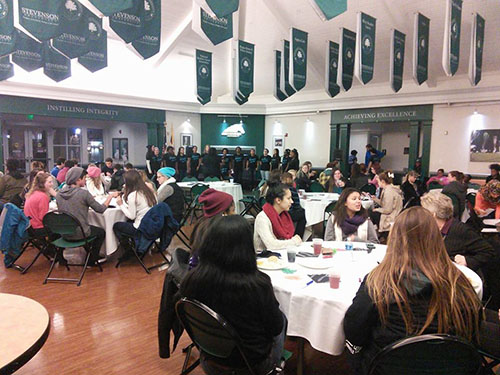 The dinners will take place on Nov. 16 for Susquehanna residents and on Nov. 20 for Western Run and Patapsco residents at 6 p.m. The dinners are restricted to first-year students living in the three residence halls, along with their resident assistants and resident directors.
Professors Leeanne Bell McManus, Laurel Moody, and Chip Rouse are three of five faculty members who contribute to the food that is made including mashed potatoes, green beans, and cornbread. The turkey and gravy – the stars of the meal – are catered by Boston Market. The food will be served buffet-style, allowing students to feel comfortable eating as much or as little as they please.
Residents of Susquehanna Hall can rely on their faculty mentors, Romas Laskauskas and Art Fifer, to put together a turkey dinner as splendid as in years past.
In addition to the delicious food, this event gives students a chance to become connected with one another in an environment outside of the classroom. Rouse said, "It's an event that brings the first-year students out of their dorms, gets them to meet people, meet us (faculty,) and perhaps find new activities they are interested in."
First-year residents attending the dinner do not need to worry about the formality of many Thanksgiving dinners. Rouse described the setting as informal, with food "better than Mom could ever make."
This event also allows for many conversations to occur at the dinner table that Bell McManus compared to a family-style Thanksgiving, embodying Stevenson's students' abilities to come together as a large group in a successful and welcoming manner.
With music, the family-style environment, and the delicious food, Rouse also showed her excitement for the event, explaining that it is her favorite yearly Faculty in the Halls activity.
Bell McManus said that the result of a lot of planning and hard work was a relaxing evening during a stressful time, while Rouse adds that the event shows students that the residence halls are good places to be, with people who care about them. For more information, students can contact Residence Life or their resident assistant.