Stevenson University's track and field team members are overcoming obstacles this year after losing a huge contributor and still practicing without a facility. However, the team is extremely dedicated, striving to overcome both challenges and work even harder as a team, according to their coach.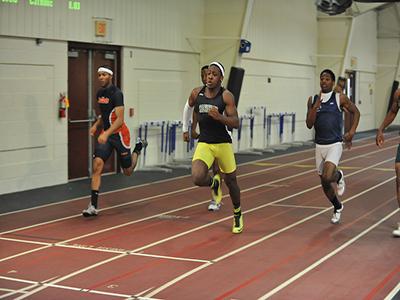 Eric Camodeca, coach of the track and field team, said that a reoccurring challenge for track and field has been not having a facility on campus.
Throughout the season, the team travels to practice at other indoor sports facilities such as Goucher University, Owings Mills High School and Reisterstown Sportsplex. "It's extremely difficult… I give the kids a lot of credit. Indoor season practices at 6 a.m., and we have to travel all over the place" said coach Camodeca.
Growing from about 27 members to now over 80 on the roster, a lot has changed within the program since  Camodeca started in 2014.
"We came from being one of the worst teams in the conference finishing in 12 and 13 place and now finishing as high as third and second," he said. The expectation now is to win. The team is working hard to qualify for the national championship meet and expect to produce more All-American athletes from Stevenson.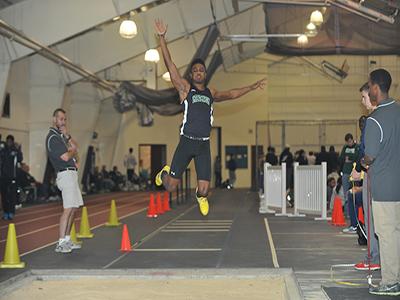 Although the team said good-bye to a champion, they are saying hello to some new prospective ones. One of the biggest difficulties they'll face this season is the loss of Devonte Williams, a four-time all-American champion, who graduated in the spring of 2016. The coach hopes current members will step up.
"He was such a big component of this team, so now it's more of a team effort to gather points rather than relying on one person," said Camodeca.
Their first meet is the Diplomat Open on Dec. 2 at Franklin and Marshall College in Lancaster, Pennsylvania, a new rivalry for the Mustangs. Later this season, the team is planning to visit Boston University for a meet in February 2018, and the outdoor team will travel to Coastal Carolina University for a spring break trip.