Annual programming sparks holiday spirit
The holiday season has officially commenced now that Freeform – formerly ABC Family – has released its annual "25 Days of Christmas" schedule.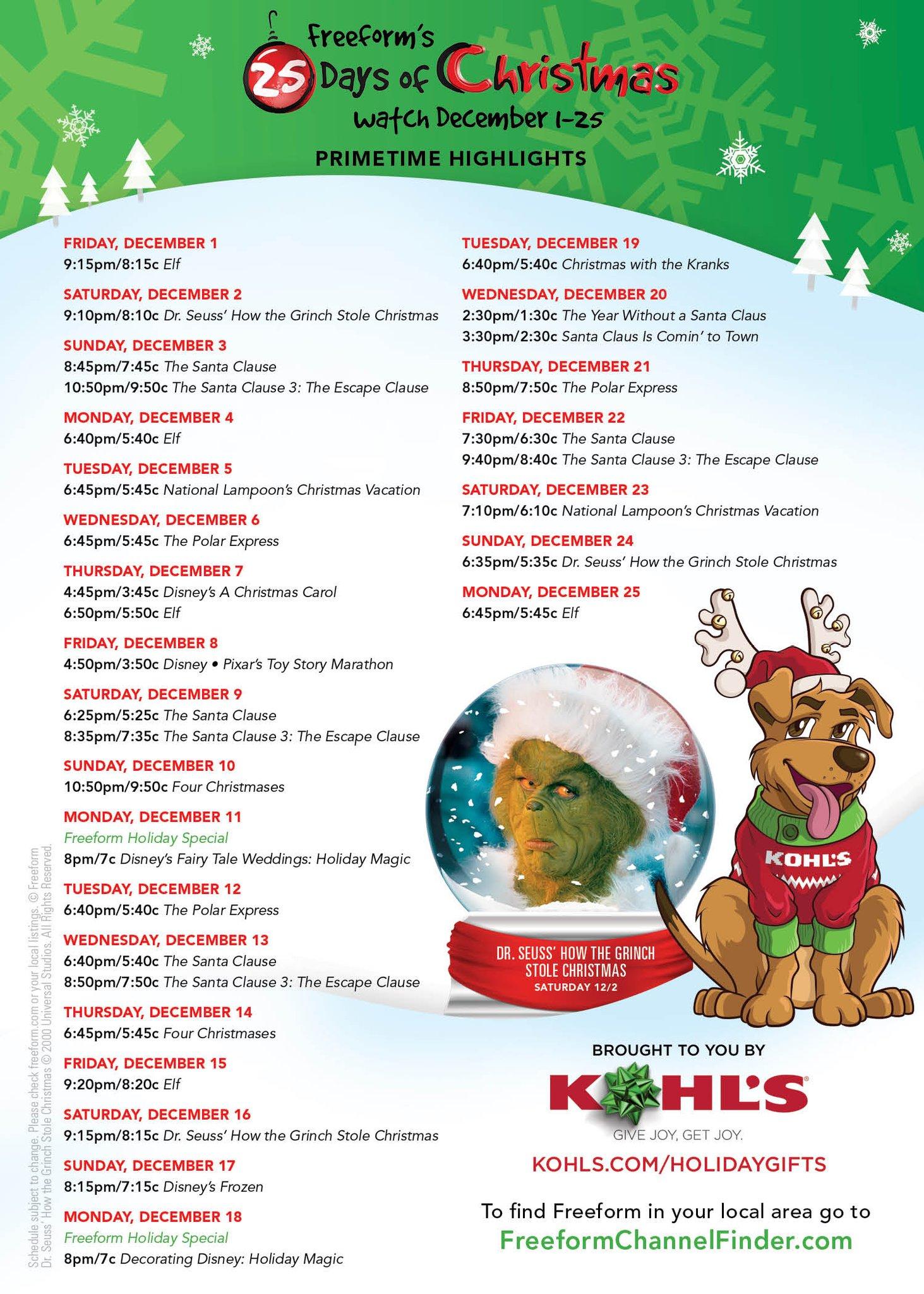 Starting Dec. 1 through Christmas Day, Freeform will brighten up the holiday season with winter specials like "Frozen," classic movies such as "The Little Drummer Boy," returning favorites like "The Grinch," and two new holiday features that showcase Disney's holiday magic.
Since this year marks 21 years of "25 Days of Christmas," Freeform is celebrating with two new Disney holiday specials.
On Dec. 11 at 8 p.m., "Disney's Fairy Tale Wedding: Holiday Magic" will air, containing behind-the-scenes footage of some of the most spectacular weddings and engagements at Disney destinations around the globe.
On Dec. 18 at 8 p.m., "Decorating Disney: Holiday Magic" will take a closer look at Disney's theme parks and resort hotels as they transform into winter wonderlands.
Throughout the 25 days, Freeform will offer a wide variety of TV shows and movies, from holiday classics such as "National Lampoon's Christmas Vacation" and "A Christmas Story," to year-round favorites including "Toy Story" and the "Harry Potter" series.
Freeform's website indicates that the network wants to include movies and shows that are appealing to the public.
According to Business Insider, the most popular holiday movie in America currently is "Elf," which will air as the primetime highlight of opening night on Dec. 1 at 8 p.m., as well as several other times throughout the programming including Dec. 4, 7, 15 and 25.
Along with traditional Christmas movies, '25 Days of Christmas' includes an array of family favorites that viewers of all ages can enjoy. Films such as "Frozen" and "Willy Wonka & the Chocolate Factory" are among a range of options for a family-friendly movie night.
"Pretty much every night of December is booked for me now that Freeform's "25 Days of Christmas" schedule is here," said Taylor Poblett, a senior fashion merchandising major.
Currently, Freeform's website is dedicated to the holiday programming event, featuring quizzes, articles and videos, along with other holiday content such as cookie recipes, DIY decorations and holiday fashion to get the season started.
Furthermore, Freeform is now streaming "25 Days of Christmas" movies on its website for viewers to access at any time.
To view the full schedule for "25 Days of Christmas" and stay up-to-date with new holiday material, visit Freeform's website or follow it on Twitter at @25Days.
Leave a Comment
Donate to Stevenson Villager
Your donation will support the student journalists of Stevenson University. Your contribution will allow us to purchase equipment and cover our annual website hosting costs.