With the United Collegiate Hockey Conference (UCHC) in play, Stevenson's women's ice hockey team is trying to get the gears spinning, having already faced a challenging start.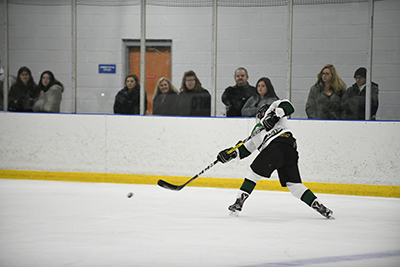 With four games in the record books, the team has an overall record of 0-3-1. The Mustangs faced two of the nation top three teams in Division III. Adrian College, last seasons Division III national finalist, now ranked second nationally, and Norwich University ranked third. Against Adrian, the Bulldogs outshot Stevenson 49-12, only the third time in the last 41 games that the Mustangs have allowed 40 shots on goal, according to gomustangsports.com. In the consolation game of the Bulldog Bowl that weekend versus Norwich, the Mustangs fell 7-0 with only 14 shots on goal.
The players are excited to be in the newly formed UCHC conference and to be able to compete against good competition. "Having more competitive teams sets our program up for success," said senior captain Natalie Rosendahl.
After a long weekend on the road and after a bye week, the Mustangs looked to their home opener for firmer footing. They played two games against conference opponent William Smith, starting the series with a loss, but fighting back the following day. Stevenson ended the weekend with a tie, 2-2 in overtime. Seniors Savannah Sommers and Chelsea Blackburn both netted their first goals of the season to help the Mustangs.
The Mustangs look to their strong leadership and diverse ages to unify the team. The 2017 squad is diverse, for it is the first women's ice hockey team in program history to include all four classes on one team. Eight of these players are seniors, and a total of 13 current players were a part of the 2016 CHC championship team. "This team is very experienced," said senior Kellen Wittman.
Captains Blackburn and Rosendahl agreed that they need everyone in order to have a positive outcome.
"The strength of the pack is the wolf, and the strength of the wolf is the pack," said Blackburn, adding, "That speaks highly, and it shows that hockey in its self is a team sport and we need every individual that is a part of our team."
The Mustangs hope to secure their first win of the season against nationally ranked conference foe Elmira College. "We will see success if we focus on our special teams, finishing, and playing the entire 60 minutes," said Wittman.
The Mustangs will travel to New York to play Elmira College in a two-game series on Friday, Nov. 17 and Saturday, Nov. 18.