Satisfaction is always guaranteed at Krispy Kreme, including the friendliness of the staff and the quality of the donuts.
Krispy Kreme's re-opening on Oct. 17, 2017 at 6 a.m. saw a line for service approximately two miles long on Reisterstown Road, and the music could be heard for miles.  Customers waited in line for an hour or more as the establishment served every single person.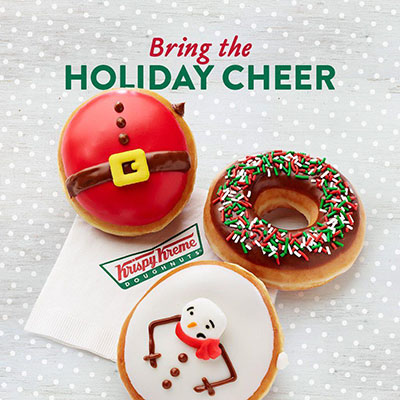 This longtime chain proved its excellence again and again by balancing its hot fresh donuts, coffee and lattes as well as its in-store customer service counters and drive-thru windows.  Several families and businesses took part in the event opening and expected nothing less than the quality of service they received.
This American doughnut company and coffee chain is located across from Foundry Row on Reisterstown Road in Owings Mills, Maryland.  The franchise offers a wide assortment of 40+ doughnuts and other options such as coffee and drinks. The prices are very affordable.
Krispy Kremes' most famous and best-selling product is the original glazed doughnut. Their vision is to be the worldwide leader in sharing delicious taste and creating joyful memories. Hot light hours are between 6 a.m. – 10 p.m. "Hot light" is a luminescent light located outside the restaurant that lights up in order to notify customers when doughnuts are hot and fresh out of the oven.
The service at Krispy Kreme is definitely memorable. The dining area is spacious, clean and suitable for families, students and everyday workers. The area includes high chairs and bar stools as well as tables with a variety of seating options. A shelf is positioned in the center of the dining area showcasing Krispy Kreme merchandise.
The store is designed to draw attention to the conveyer belt of doughnuts. The setting provides a scenic view through the glass window showcasing the creation of doughnuts.  At this location, the employees are very friendly and informative as to the latest products in the store.
Overall, the atmosphere is upbeat and the delightful scent entices anyone looking for a tasty treat.
Krispy Kreme is located at 10021 Reisterstown Rd, Owings Mills, Md. 21117.
Hours of operation:
Monday-Thursday: 6 a.m. – 10 p.m.  Friday and Saturday: 6 a.m. – 11 p.m.  Sunday: 6 a.m. – 10 p.m.