The 2018 campaign for the women's soccer team is a process that has big expectations focused on winning games, making the playoffs, winning the Middle Atlantic Conference (MAC), and making the NCAA tournament.
This will be coach Tati Korba's second year coaching the women's soccer team, and she has set the expectations high for the women this season. The coach believes that the team needs to "stick to the game plan" each game in order to be successful. She also wants her team to play to their strengths and battle for results in order to compete in a tough MAC conference and get back into the playoffs after missing out last year.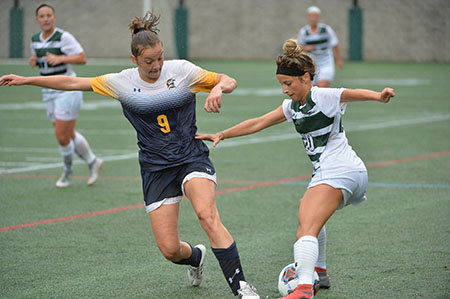 The team has had a rough start with some very competitive games. Three of the four losses were a one-goal difference, and they have had two double overtime games. Their most recent game, one of the double overtime games, resulted in a tie after the Mustangs fought hard against a previously undefeated Catholic University team.
The women's team has two returning seniors this year, Sam Hooker and Jess Littlepage. Korba wants the seniors to be the leaders of the team, with the help of the juniors Alex Hamel, Rylie Patterson and Delayna Witouski.
Korba said that this year's team is committed and has already done a tremendous job. She will rely on her returners because they have experience, understand the style of play, and have been committed during these past 10 months.
All five games were against strong opponents including William Smith University, who is currently ranked second in the nation. Although this been a rocky start, Korba is still very positive about the future of her team.
Her plan is for the players to stick to the "process," noting that she was please with two of the three games, hoping that the team can look at them as a building process.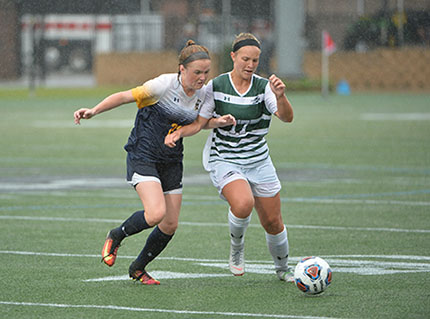 The coach added that "results happen but we need to walk it off."  She wants her team to fight for every game and, despite the losses, to keep their heads high and walk off the field knowing that they did their best. She believes that if the team will show up, stick to the game plan, and do the right things, they will be successful in the long run.
Korba added that she wishes they could go back to the Rochester University game, since it was such a competitive match.
The team will be back in action Sept. 15  at Mustang Stadium at 1 p.m. vs Elizabethtown College, looking to get their first win of the season.