Stevenson students are utilizing yoga classes to relieve end-of-semester stress and to live healthier lives. Yoga is useful since anyone can practice it and reap the benefits.
These benefits include reduced stress, a better sleep schedule, and a more positive lifestyle.
Sophomore men's ice hockey player Martino Picariello said, "Yoga helps my body and mind with recovery, allowing me to live healthy and comfortable." Martino is a regular yoga user and swears by its benefits.
According to Harvard Health, yoga is known to relieve tension in the body and mind. This is useful as it is a non-intrusive way to naturally relieve stress.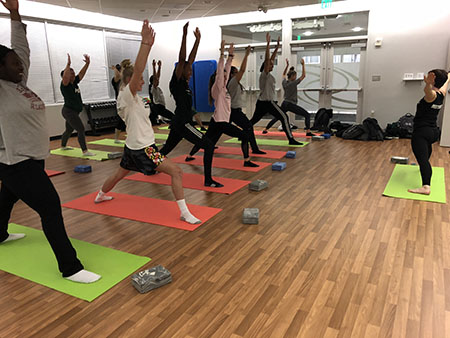 Harvard Health concluded after a study done on 180 students that after two weeks of practicing yoga, "students had greater muscle strength and endurance, flexibility and cardiorespiratory fitness."
Stevenson holds free yoga sessions Tuesdays and Thursdays from 6:45-7:45 p.m. in the fitness center at Wooded Way, mats are provided. Anyone can attend these classes with no prior experience; however, students need to sign up for the class on the IMleagues website.
The class is led by senior Tyler Didra, who also teaches Pilates, Women on Weights, TRX Circuit Training, and Yogalates classes at Stevenson, and she takes pride in doing so.
"I have been practicing yoga since I was 13 as a means to help with my fibromyalgia," said Didra."Yoga brings awareness to and relaxes the body and mind, and it helps students gain strength and flexibility."
The American Osteopathic Association notes that there are more than 100 different types of yoga, but most types include breathing exercises, meditation and positions that stretch various muscle groups.
"Stress can reveal itself in many ways, including back or neck pain, sleeping problems, headaches, drug abuse, and an inability to concentrate," explained Dr. Natalie Nevins, a board-certified osteopath. "Yoga can be very effective in developing coping skills and reaching a more positive outlook on life" she added.
The American Osteopathic Association also notes that yoga can help calm practitioners and increase mental clarity and concentration in addition to relieving chronic stress.
However, Stevenson's yoga sessions reach beyond providing mental benefits.
Didra will also host a yoga rave event on Dec. 5 that incorporates yoga, dancing, and rave music.  "It's a rave for the yogis!" she said. The event welcomes all students, faculty, and staff, while featuring a DJ, glow sticks, and black lights.
Yoga classes are offered specifically to help students with stress, allowing them to leave their comfort zone and enter a zen space. The sessions offer proven health benefits and allow students of different majors and backgrounds to meet and find something in common.