Stevenson University's Office of Campus Recreation manages club sports, intramurals, fitness centers, and fitness classes that give students an array of opportunities to get active, stay fit, and strengthen their sense of community.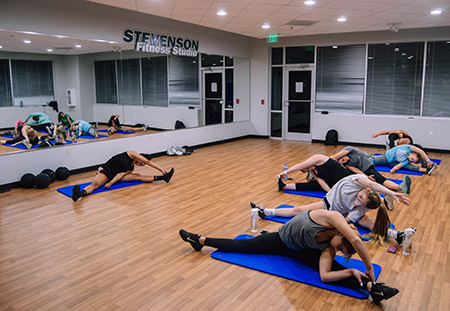 Matthew Grimm, director of campus recreation, said that campus recreation is a great way to get a well-rounded college experience, build community by meeting new people, and try something you have not done before.
The office provides activity for every level of athleticism. The campus recreation staff does their best to provide classes that students want. Many of the activities offered showcase the newest fitness trends similar to what other gyms are offering. Classes range from beginner to advanced, and students can choose from a wide variety of workouts including yoga, women on weights, body shred, and zumba.
Cara Desantis, a student at Stevenson, attends classes several times a week. She not only enjoys being active but sees it as a great bonding experience for herself and her roommates. She also enjoys the convenient times the classes are held, as they are later in the evening, which gives her the opportunity to break away from the stressors of school.
Students who are hoping to participate in a sport but don't want the rigorous commitment that comes with varsity sports can try intramurals or club sports. Intramurals allow for anyone — students, staff, even faculty — to participate in sports.
Grimm explained that intramurals are perfect for those who have never tried a certain sport but have always wanted to, or for those who used to play in high school and just want to continue for the love of the sport. Intramural teams only compete within Stevenson, so it is just about participants who are sharing a passion for sports.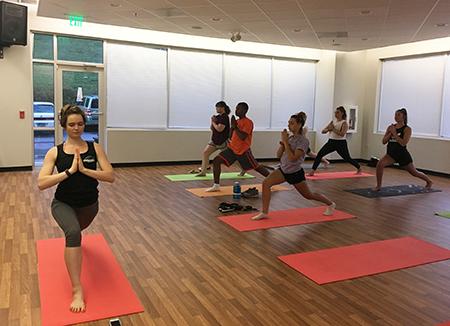 Club sports teams compete with other universities. For those who want to be more competitive within their sport, while still enjoying a moderate training schedule, club sports provides the perfect opportunity to do both.
Lacrosse player Andrew Nagel agrees, and explained that the middle ground of practice sold him on the idea of joining a club sport. Pierce Dushenko plays both hockey and lacrosse on the club sports level, credits club sports to improving his experience at Stevenson. He explained that his favorite thing about club sports is "how positive of an environment the teams are. Everyone is welcomed and is supportive of those still learning to play."  Dushenko is excited for the upcoming season, as both the hockey and lacrosse teams have a full roster and the chance to not only make the playoffs, but to go far in them.
Those who want to find out more about what campus recreation has to offer, sign up for classes, or check their weekly schedule, can visit the IMLeagues website, or can download the SU Campus Recreation App.
Campus recreation staffers are noted that they are always listening with an open ear as their goal is to offer different athletic opportunities to meet the interests of students. Those who have an idea or believe something is missing from campus recreation should feel free to contact Grimm through campus email.