WSR, SUTV highlight student success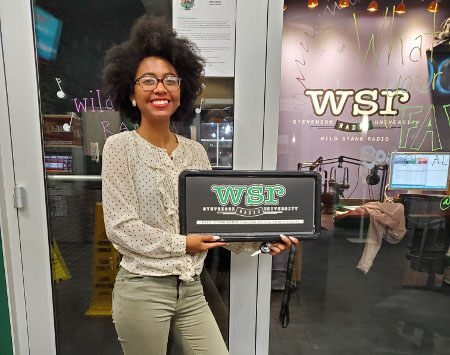 Stevenson University is offering an opportunity for students and staff members to share their stories with the community.
This podcast is about finding the "hidden gems of Stevenson and things you wouldn't know about the average person you see every day," said Krystal Alexis, promotions director of WSR and SUTV and host of "15 Minutes of Fame." Alexis said the goal is to bring more connection and build a stronger community at Stevenson because listeners can learn more about people on campus.
WSR began in 2011 in the School of Business's copy room, according to Aaron Harris, director of digital broadcast media. SUTV was started later that year. WSR and SUTV, now completely student-run, offer students a way to be a part of Stevenson culture and enhance student life, said Harris.
"That is what WSR and SUTV are here for," said Harris. "I want students to be creative and come up with ideas. It's all for the students." It does not matter what major a student is pursuing; anyone can be involved in the programs.
"15 Minutes of Fame" is currently recruiting students and faculty members to be on the show. It will begin broadcasting later this October, and Alexis hopes to capture a student or faculty member story once a month.
The podcast will be live-streamed on @mustangmediasu on Instagram, and it will be posted on Stevenson University's official YouTube channel. Students and faculty members can also follow @stevensonTV on Facebook for further updates about what WSR and SUTV has planned.
If anyone in the Stevenson community knows a student or faculty member who has something special that could be worth sharing on this podcast, they can direct message Alexis through @mustangmediasu on Instagram. Students who are interested in starting their own podcast can reach out to Harris.
Donate to Stevenson Villager
Your donation will support the student journalists of Stevenson University. Your contribution will allow us to purchase equipment and cover our annual website hosting costs.