By: Darae Lyles
Entertainment Editor
Entering Power Plant Live!, cool mist from the water fountain hits the skin like a summer day on the beach as loud dance music is thumping throughout the venue. Walking up to the VIP tent to the left, guests are greeted by one or two officials who give out wristbands and check IDs for those who have connections to the bartenders. To the right, general admission is surrounded by a silver fence to divide the lines for entry. After check-in, guests are instantly transported into the Alley which is covered in a combination of red brick and concrete, and a performance stage at the front for musicians and DJs.
Power Plant Live! | 34 Market Pl, Baltimore, MD 21202
Power Plant is my personal favorite hangout spot for me and my friends. Inside lies four bars, one lounge, two music venues, and four activity locations.
Looking for a fun night out with friends? Check out the bars!
The bars include:
PBR Baltimore: This is my all-time favorite bar. If you are a fan of country music, bull riding, and concerts, this is the bar for you. Walking outside of PBR, you are welcomed by a large balcony overlooking the Power Plant alley and the surrounding venues.
Angels Rock Bar: Angels is connected to PBR and are separated by a small curtain. This bar plays mainstream music and is a combination of a bar and club/lounge hence the seating to the left of the space.
Leinie Lodge & Beer Gardens: Leinie Lodge is to the right of the stairs going up to PBR and Angels. This is a very relaxing and laid-back venue in which friends can enjoy craft beer, great food, and a beautifully decorated industrial interior.
Luckies Liquors: Also, another favorite of mine, Luckies Liquors is another industrial bar in Power Plant. From the Air Hockey table to the jumbo Connect Four, Luckies Liquor has all the fun.
Want to relax while having a drink? Try out the lounge.
The lounge:
Mosaic: Mosaic is the one nightclub Power Plant has to offer. The dark interior is complemented by purple, fluorescent lights that create a club-type of atmosphere. There is also a full bar that leads out to the alley of Power Plant Live.
Calling all music fans!
Music Venues:
Rams Head Live!: If you have heard of Rams Head, you know it is an amazing venue to see live concerts or shows of your choice. The best part is that there is a full bar and dance floor inside, but it still connects to the alley.
Tin Roof: Tin Roof is one of the best places to chill and hang out with friends if you are not a fan of an energetic aura. The venue has a unique niche of live music from local artists, unlike the other surrounding locations.
Not interested in the night out scene? Check out the entertainment activities!
Entertainment Activities:
Luckies Tavern: Located underneath the stairs leading up to PBR and Angels is Luckies Tavern. This is a chill spot to get drinks, food, and overall, just hang out while also being in the same atmosphere as the corresponding bars and venues.
Charm City Clue Room: If you are a fan of escape rooms, this is perfect for you! Charm City Clue Room is to the left of Mosaic and is not as advertised as it should be. The cool thing about this place is that one of the escape rooms is Edgar Allen Poe-themed!
Kraken Axes Baltimore: Calling all axe-throwing fans! Kraken Axes Baltimore is a wonderful place to visit if you want to get food and drinks while doing a fun activity with friends!
Underground Pizza Company: Known as "Baltimore's Original Detroit-Style Pizza," Underground Pizza Company (UPC) has delicious homemade pizza, which is always a perfect meal before, during, or after a night out! Stop by UPC while visiting other venues in Power Plant.
Federal Hill (Fed Hill)
Fed Hill is one of the most beautiful places in Baltimore. With a mixture of downtown and suburban life, Federal Hill has something for everyone.

The Charles Baltimore | 1110 S Charles St, Baltimore, MD 21230
Located in "the heart of Baltimore," The Charles is a beautiful venue to get drinks, watch sports, and overall hang out with friends. The venue has two floors; the first one has the feel of a sports bar with large TVs to the left above the bar while upstairs is simply a dance floor where the DJ is.
"But wait, I'm only 19!" Don't worry, we have your back with fun places to visit!
Being 21 has its benefits but there are some things to do around the Baltimore Area if you are not legal just yet.
Let's Tap-In events | Charles Village Pub, 19 W Pennsylvania Ave, Towson, MD 21204 (Location Varies depending on the event)
Founded by three Towson alumni, Conrad Brake, Ryan Rutkowski, and Emerson Maggi, Tap-In: Bar Scene is an app where you can save money on drinks and find entertaining and unique events hosted by the company. Mainly located at Charles Village Pub in Towson, the events are 18+ however a higher cover will be charged at the door for those who are underaged. Colleges from all over the area attend the events and even if you cannot drink, the atmosphere is always positive and there is never a dull moment at Tap-In events!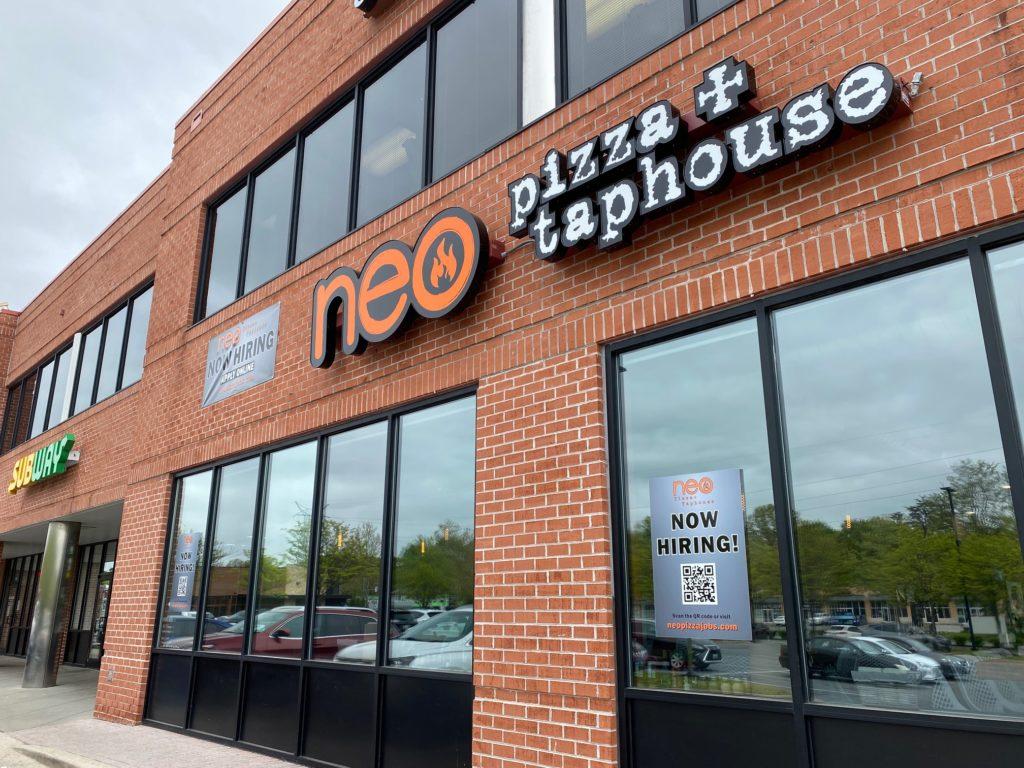 Neo Pizza & Taphouse | 10995 Owings Mills Blvd Suite 100, Owings Mills, MD 21117
The new and upcoming hangout spot for Stevenson Students resides down the hill to the right of Subway. Since this place takes Stevenson Flex Dollars, it is a convenient place to hang out with friends and have a drink if you are 21.
Baltimore Soundstage | 124 Market Pl, Baltimore, MD 21202
Baltimore Soundstage is a concert venue however unless the events are listed at 18 + or 21+, all ages are welcome to enjoy live music and drinks (if you are legal, of course.)
The 8×10 | 10 E Cross St, Baltimore, MD 21230
Located in Fed Hill, The 8×10 is another concert venue that allows people 18+ to enter with their ID and a $3 cover fee. For those who are of age, there is a bar for getting drinks while at the concert.