GAME MASTER
Stevenson's Jordan Sheets completes his first year as esports coordinator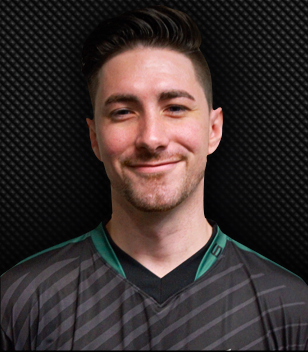 Jordan Sheets and his brother Ryan, who is three and a half years younger, didn't grow up in the richest family. Their dad resisted letting them play video games for the longest time. This didn't stop Jordan from playing video games; he got a Nintendo device at around age 8 for Christmas and from there, a passion for gaming was born.  
Jordan became one of the world's top-ranked players in the beta of "Player Unknown Battlegrounds" (PUBG). At first, his dad wasn't a huge fan of him playing video games late into the night, specifically "World of Warcraft," but Lowell never stopped him from his late-night gaming. As Jordan grew up, his dad came around to him playing video games because he saw how focused Jordan was. He saw him become concentrated on what he wanted to do with his life and saw the potential Jordan had to become a successful esports player.  
Jordan loved sports and he loved the thrill of competition even more. He was the second-highest scorer in the roller hockey, ice hockey, and soccer  
Then something happened.  
The more Jordan played hockey, the more he sustained a lot of injuries from the sport: including a neck and lower back injury from being checked into "the separator," the glass between the crowd and players. 
 Hockey wore down his body, and he needed an alternative to stay healthy but still divulge in something he enjoyed.  
So, what alternative? Become an amazing coach, commit to a job he loves, and play a sport he has an extreme passion for, that's what. 
Sheets, 33, is now the Esports coordinator at Stevenson University.    
His journey from injury-riddled teenage hockey player to husband, father, and esports coordinator is a story of hard work, versatility, and natural ability. He considers himself fortunate to lead the SU esports team. 
"We've been very fortunate we've been able to grow and learn along with esports as it's grown," Sheets said. 
Sheets managed many jobs along the way before becoming an esports coordinator. He earned his degree in Computer Science, then blasted dry ice on oil-based machinery for a contractor. He also worked as an IT specialist at Computer Marketplace and took on the role of project manager for Jacks Small Engines (a marketing company).  
In 2017, Stevenson started its esports program and named Jon Neely and Sheets as its two coaches. Neely coached "League of Legends," and Sheets coached "Overwatch." Eventually, Stevenson named Sheets coordinator of all esports teams in December 2021. 
He still remembers that amazing day. 
As he did every other morning, he came to Stevenson thinking he could take his career to the master's level, just like his rank in "Overwatch."  
So, what did Sheets do? He went to Neely and talked to him about getting to that master's rank. Neely was very encouraging about that and recommended Sheets to Matt Grimm and Brett Adams. Sheets an interview for that job, and  finally got the job as an esports coordinator. 
 Sheets recalls being super ecstatic that day and couldn't have been any happier/luckier to have this job.  
Sheets became the esports coordinator by working hard. As the years rolled on, he worked all day as a coordinator, spent long nights at SU, encouraged his athletes every day. Dealing with so many personalities provided him with a great gauge on how to deal with each person. Not only did Sheets grow, so did his athletes through their wins and losses.  
Sheets made the point that it is okay to make mistakes no matter what the circumstances are, he said if you're trying and learn from those mistakes, then he said he would not get mad at you at all but would get mad at you if you didn't learn from that mistake and just stayed stuck in that mistake. 
Ian Whisner is an athlete with the Stevenson esports team, specializing in "Overwatch." He said Sheets was a "huge part" of Whisner's joining the team and rising to be the top-rated player in PUBG. 
"When I first toured Stevenson and had a burgeoning interest in playing Overwatch competitively, he was the one who greeted and encouraged me to join the team," Whisner said.  
Since then, Sheets has been an instrumental part in raising the profile of the team. 
"He has always been a fighter for the esports department, standing up for us to administration and always pushing for growth," Whisner said. "Overall, I believe that he made the transition into college a lot more enjoyable by fostering a fun environment to play and compete in, and I'm sure that anyone else who he has coached would agree."  
Donate to Stevenson Villager
Your donation will support the student journalists of Stevenson University. Your contribution will allow us to purchase equipment and cover our annual website hosting costs.