DAYTONA DREAMIN'
Stevenson cheerleaders fly to Florida with a national championship on the line 
Daytona Beach is famous for its Spring Break revelers, its sandy Atlantic coastline, and its Daytona 500 auto race. This weekend, Daytona Beach is for Stevenson University cheer. 
The squad will be heading to Daytona Beach for the weekend, where they will compete in the National Cheerleaders Association College Nationals in hope of bringing home a national championship.  
The team won its bid to nationals during the December 2022 NCA camp which was hosted by Joshua Stamper (Navarro College) and Sarah DePaulo (Louisville), two celebrity cheerleaders from the popular Netflix TV show "Cheer." SU cheerleaders have long coveted a bid to Daytona, so they are aware of the big boost that the program's resume will receive once they add the NCA College Nationals on there. 
"This is a big step for our program, for putting us out there, and hopefully for gaining new cheerleaders in the years to come," said first-year cheerleader Faith Alsip. Where is she from? 
"It was proof of the real first step that we were taking towards the NCA," said first-year cheerleader Andrea Hutchinson.  
A dream realized 
The excitement of winning a bid has had a lasting impact on the Mustangs. For some, there are more personal meanings to winning a bid to nationals. 
Senior cheerleader Kiera Jeanfrancois was supposed to participate in the NCA College Nationals with the Mustangs in 2020. However, the COVID-19 pandemic had other plans and cancelled nationals, much like it did other things that year. This will be her first crack at nationals, and she could not be more excited. 
"It is a really big deal for me to finally be a national cheerleader and to actually step foot on the floor," Jeanfrancois said. "That is what a collegiate cheerleader wants to do [is cheer in nationals]." 
Sophomore cheerleaders Melodey Fitzwater and Trinity Simons have always dreamed of going to the NCA nationals, and their dreams are about to become reality.  
"I have always looked up to college cheerleaders because I thought what they did was so cool but now I have become the person that I have always looked up to," Fitzwater said. "I am still in shock that I get to live my dream in two days, but I am ready to go out on the mat and live out my dream."  
"I've been thinking about this moment since I was little," Simons said. "[I would be] competing and practicing on the grass. You are just surrounded by cheerleaders, and you are definitely in your element as a cheerleader."  
Heading into nationals, Simons feels all the support from her teammates as she returns to the squad after missing the fall season. 
"I would not throw my back tuck for nothing, and now I am throwing my tuck at the competition. I could not ask for a better support system."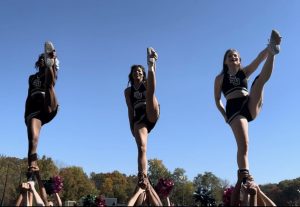 This is a very young squad of Mustang cheerleaders, and the process of the 2022-2023 season has often been described as a rebuild, though not a negative one. The majority of the team consists of first-year or second-year cheerleaders, and they are already being thrust into an early but prestigious opportunity with nationals. 
That is not going unnoticed. The young guns are taking this early opportunity with a lot of pride. They take just as much pride in having a general cheering opportunity in college. 
First-year cheer Hailey Guerrette did not expect to cheer in college, but she describes her chance with Stevenson cheer as an "eye-opener." 
"When I was given an opportunity and saw the growth that I could have and that the team could have, it was a big deal for me," Guerrette said. "You watch all of these great athletes perform at nationals and you never expect to be that person, [but now we are]. It is a huge deal for us [younger cheerleaders] to be doing this."  
First-year cheerleader Ally Scanio, who began cheering in high school, has a similar background to Guerrette. She said that her decision to try out for the competitive cheerleading team was a last-minute decision. She is proud of herself for accepting the challenge and climbing the ranks to conquer every position in cheer. 
"My initial reaction [to the bid] was a mixture of happiness and disbelief," Scanio said. "I never imagined cheering in college. I never pictured myself going to Daytona, Florida to compete in a cheer competition my freshman year of college. Now, not only am I on a college team, but I have the opportunity to go to nationals." 
New leadership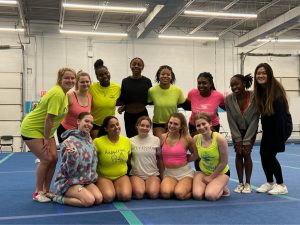 In addition to the new-look cheer squad with antsy young guns, the Mustangs are being led by a new coach. Sugene Shin is currently in her first year as the head coach of Stevenson cheer after previously coaching at Marriotts Ridge (Maryland) High School. Her resumé includes a 2021 NCA Super 7 championship and internet fame on her Tik Tok account @sugeneshin_ . 
Shin has left a good first impression on the Mustangs, thanks in part to her ability to recruit top- level assistants and mentors for her cheerleaders, as evidenced by the NCA camp held by Stamper and DePaulo. 
"[Sugene] has a lot of good resources, so she is able to bring in other coaches to get other perspectives," Jeanfrancois said of Shin's connections. "Having her resources is amazing [for our program]." 
When cheering at Glenelg High School in Glenwood, Maryland, Scanio often faced Shin and the Marriotts Ridge cheerleading program. That did not stop Scanio from admiring Shin's work.  
"I remember being so excited to watch [Shin's] team because they were always so amazing and their routines always looked great," Scanio said . "Coming here and realizing that [Shin] was going to be my college coach was a really amazing experience."  
The preparation for nationals has been rigorous. The Mustangs held nightly practices as late as 1 am. They ran five miles a week, and Scanio implemented a lifting program for her and her teammates. 
They're ready 
So, what has the team done to prepare for Daytona? 
"What haven't we done?" said Simons. 
Several cheerleaders said the process included a lot of blood, sweat, and tears. However, everyone remains proud of each other for working through a tough preparation process. 
"Everybody shows up, and they are ready to do their job," Alsipsaid. "I've never been a part of a more dedicated team." 
Simons agreed. 
"No matter what happens on Thursday and Friday, I love this team," Hutchinson said. "Whatever we put on the mat, I am going to leave it there and I am going to be proud of it."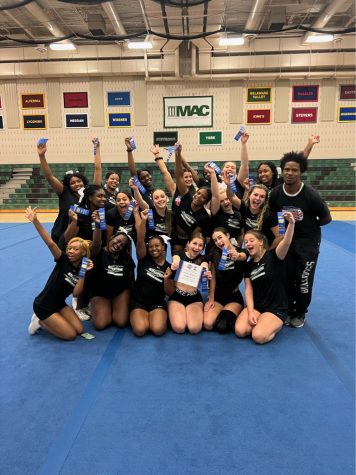 To prepare ahead of time for a live performance in a condensed atmosphere like that of nationals, the Mustangs held a college showcase at the Owings Mills Gymnasium on April 4. They performed their full routine in front of a loud and raucous crowd full of friends, family, and classmates of the cheerleaders. They expect the crowd in Daytona to have double the energy and intensity than what was seen at the gymnasium, and they feel that the showcase prepared them well for the atmosphere that they anticipate this weekend. 
"You get your jitters out, and you are able to see what you need to work on and fix right before [the real competition]," Jeanfrancois said. "It is a good breath of fresh air, and it helps rejuvenate." 
Thanks to circumstances like the COVID-19 pandemic, performing in front of an audience was a lost feeling for many of the cheerleaders until the showcase occurred. There, they were able to get some adrenaline going and get back in the comfort zone with an active crowd. 
"I've forgotten what it really felt like to be in front of a crowd and give it my all," Hutchinson said. "I feel like [the showcase] was definitely a taste [of what to expect this weekend], and now I am hungry for more." 
Off the mats, the Mustangs set up various donations and fundraisers with all proceeds going towards benefiting their trip to Daytona. The wide range of love, as they described it, was sincerely felt by the team. They also felt that the support they received was a way of showing that cheerleading deserves to be recognized as a sport just like any other.   
"I feel like cheerleading in a lot of different schools is put at the bottom [of the athletic rankings]," Aslip said. "To have a community who is actually supporting us and is encouraging us to do good feels very nice." 
"We put in so much work, and I feel like we are finally getting something back," Fitzwater said. "I don't think that a lot of people realize before that cheer is actually a sport. Now that they know people that are cheerleaders going to NCA and now that they are donating, we finally feel some [sense of a] comeback." 
The Mustangs said that the support that they received from their families was a nice feeling, whether it was through a donation or through performing in front of them at the showcase.  as many of the team's friends and family will not be able to attend the NCA nationals due to the complexity of travel and distance from home to competition. 
"It is a great way to feel [our families'] support even if they are not actually there," Guerrette said. 
Stevenson cheer has waited a long time for this opportunity. The competition has not even begun, yet their trip to Daytona is already going down as one of the most memorable moments in program history. Through all the work that they have done as a unit, Stevenson cheer feels ready to come home from Daytona with a trophy.  
"Don't be surprised if we get first place," Jeanfrancois firmly said. 
Stevenson cheer flew out to Daytona April 5 and will begin competition in the NCA College Nationals April 6-7.  
*Update: the Mustangs finished 5th out of 6th place, just .23 points away from 4th place.
Donate to Stevenson Villager
Your donation will support the student journalists of Stevenson University. Your contribution will allow us to purchase equipment and cover our annual website hosting costs.
About the Contributor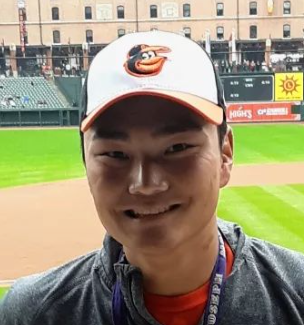 Grant DeVivo, Sports Editor
Grant is a senior from Westminster, Maryland. He served as the Villager's sports editor in 2022-23 after being on staff in 2021-22. He attended Mount St....