The echoes of Thursday, Sept. 26, resonate with a poignant note: legendary Baltimore Orioles icon, Brooks Robinson, made his final catch. 
In the wake of his death, the Stevenson University community finds itself under the shadow of a profound loss, a sentiment reverberating not just among the school's athletes but also within the hearts of Baltimore natives. 
Ryan Lassiter plays catcher and infield for the Mustangs varsity baseball team. 
"Brooks was just an ideal human," Lassiter said. "He cared so much about the city and the fans of Baltimore. I have heard countless stories of him stopping to sign autographs our doing charity events. He did anything he could to help others. I think it's important that we all live like Brooks in everything we do."
Although he's too young to have seen Robinson play in person, Lassiter has seen enough old film to know Robinson's place in history as perhaps the greatest defensive player in baseball history.
"Defensively, he was called 'The Human Vacuum Cleaner' for a reason," Lassiter said. "He made tough plays look like nothing. He is the framework for what all defensive third basemen and infielders should strive to be."
Grant DeVivo, a current senior and a catcher for the Stevenson club baseball team, never saw Robinson play, but learned to revere him over time.  
"As I've grown as a fan and as I've learned about the history of the Orioles, Brooks, to me, is Mr. Oriole," DeVivo said. 
"It is a tragic loss for the fans, and this wound will definitely take some time to heal," said DeVivo, who is also the sports editor for the Villager. "Us fans now can look at it this way: the Orioles are having a historic season. (And) they're marching to the 2023 World Series, and they're going to do it for Brooks. Brooks is so proud of this year's Orioles team right now from above."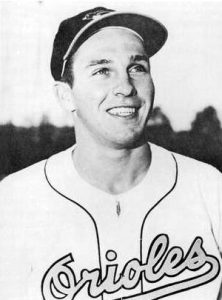 Robinson spent all 23 years of his Major League Baseball career with the Orioles franchise, forging a deep bond with the city through his Hall of Fame play on the field and philanthropic efforts off it.  
"We are deeply saddened to share the news of the passing of Brooks Robinson. An integral part of our Orioles Family since 1955, he will continue to leave a lasting impact on our club, our community, and the sport of baseball," the team said in a statement. 
Two faculty members have vivid memories of watching Robinson play. 
Communication Department Chair Dr. Lee Krahenbuhl said he has vivid childhood memories watching Robinson play third base in both the 1969, 1970 and 1971 World Series.  
"Robinson's title of the 'human vacuum' at third base was well-coined," Krahenbuhl said. 
Robinson won 16 consecutive Gold Glove awards from 1960 to 1975, cementing his reputation as one of the greatest defensive third basemen in baseball history. At the plate, he compiled over 2,800 career hits and 268 home runs. In 1983, Robinson became the first Oriole elected to the National Baseball Hall of Fame. 
Senior Lecturer Jeff Browne covered Orioles spring training as a reporter for the Fort Lauderdale Sun-Sentinel back in the 1980s. He also had his wedding party at Memorial Stadium back in 1991, 14 years after Robinson retired from the game, but Robinson has a special place in his heart.
"He was the gold standard for third base," said Browne, who, as a high school third baseman, modeled his fielding after Robinson.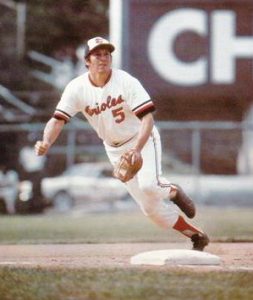 The universe Browne grew up in was one where the Orioles ruled the baseball world.  
"It's really sad that he died, but the thing is such that Orioles fans can come together in a time where their team is a dynasty in baseball," Browne said. 
Fueled with extra motivation to play in memory of Robinson, the Orioles begin their playoff run at 1 p.m. Saturday at Oriole Park at Camden Yards against the Texas Rangers in a best-of-five American League Division Series. Kyle Bradish, who won 12 games with the third best earned run average in the American League (2.83), is scheduled to start on the mound. Game 2 is set for Sunday at 4 p.m. with rookie Grayson Rodriguez (7-4, 4.35 ERA) slated to take the hill