They say that one of the most important things in sports is to have fun with the sport that you are playing. Right now on Stevenson's field hockey team, no player is having more fun on the turf than senior attacker Emma Gladstein.  
Gladstein is enjoying perhaps her best collegiate season yet while establishing herself as one of the most respected players in the program . Yet what others may forget is that while she is a senior, she has only been at Stevenson University for a little over a year, and this is just her second season with Stevenson field hockey.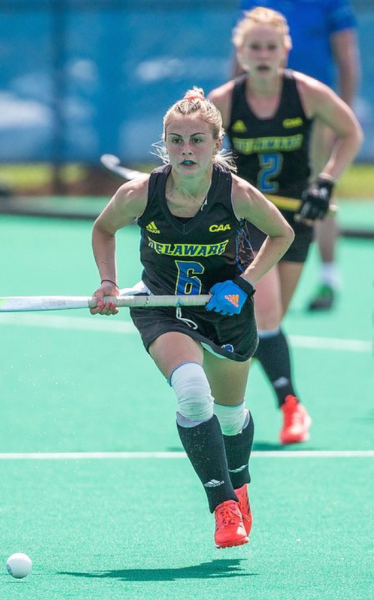 Gladstein did not begin as a Mustang. She spent her first two years of college at Division 1 University of Delaware in Newark, Delaware. As a Blue Hen, she received two National Field Hockey Coaches Association Division I academic squad awards and was a member of the Blue Hens' 2021 Coastal Athletic Association conference championship team. 
Prior to the 2022 season, Gladstein found herself closer to home after transferring to Stevenson University. While the Sykesville, Maryland native enjoyed her time at the University of Delaware, she says that she needed a change for herself both on and off the field. Off the field, Gladstein enjoys the smaller size community and class sizes that Stevenson has to offer, in addition to a closer interaction with the professors.  
"I do love the smaller school, and I like the smaller academic class sizes," said Gladstein, who still keeps in contact with her friends at Delaware. "I need that one-on-one interaction [with the professors]. Coming from a school where I had a 200-person class, it was not very easy to meet the professors." 
On the field, Stevenson field hockey's coaching staff was a big reason why she became a Mustang, describing the coaching staff as the perfect coaching staff for her. Most notably, she was beyond thrilled to continue working with Morgan Bitting. Bitting was hired as the head coach of Stevenson field hockey after previously serving as an assistant coach at Delaware, meaning that she coached Gladstein there.  
"She was always someone I could go to at Delaware for anything, whether I was struggling or school or I was just having a bad day," Gladstein said of Bitting. "I knew that coming here and having her as my head coach would be a really great move for me." 
Bitting was equally excited to continue working with Gladstein.  
"When Emma went into the transfer portal, [my coaching staff and I] were super excited about the pre-existing relationship that Emma and I had, her interest in playing Division III, and wanting to be closer to home," Bitting recalled.  
Perhaps the big reason why she chose Stevenson University, a DIII program, was to be able to play her style of field hockey and to simply have fun. Sports are all about having fun, but the intensity of DI sports can catch up to some athletes, and Gladstein admits that the pressure got to her at times at DI but it was a good learning experience. 
"I feel that I impacted my own play," Gladstein said. "It is unusual to hear of a freshman playing in games, especially on such a high-level team. I am so appreciative that I was able to have the freshman and sophomore season I had." Gladstein added that she can be hard on herself at times. "I think I get in my head a lot and try to be a perfectionist. I don't like making mistakes, and I don't like feeling like I did something wrong. Those feelings definitely held my play back." 
So she made it a personal mission to have fun on the field when she got to Stevenson. So far, it has been mission accomplished. 
"I felt like I had not been playing like I usually would [prior to Stevenson]," she said. "That was my goal, to just play my hockey, enjoy myself, and have fun. I really feel like I did accomplish that goal." 
Gladstein's fun attitude has branched out to others within the team, earning her the nickname "bibbles." fellow senior attacker Carolyn Braziel says that she has made field hockey just as fun for everyone else. 
"From her DI experience, she learned how to have more fun here [at Stevenson]," said Braziel. "At D1, it was more like a job. Now that she is here, she just wants to have fun while she is playing, and it creates a better environment for everyone."  
Gladstein's return to form has led to big time results on the field.  
Her first season as a Mustang was 2022. She played in 16 games (855 minutes) and led the offensive charge with a team-leading 10 goals and 25 shots. This season, she has surpassed all of that and has put together her best collegiate season yet. Having played in all 15 games thus far, she leads the team in goals (14), assists (7), points (35), and shots (55). She has also won a Middle-Atlantic Conference player of the week award, and there is a chance that she could claim one more. 
As a reminder, she has only been at Stevenson for a little over a year. Let that sink in. 
Bitting loves Gladstein's urgency, and she sees that Gladstein is all in to win. 
"Emma is playing with a chip on her shoulder," Bitting said. "I just love the attitude and the sense of urgency that she is playing with. I think our Virginia Wesleyan game really went to show the player that Emma is, the sense of urgency that she has, how dangerous she is, and how much she wants to win. Emma will do anything that is needed to win and for us to hopefully accomplish our goal of qualifying for the MAC championship."  
Gladstein scored all four goals in Stevenson's 4-3 win over Virginia Wesleyan University on Sept. 12.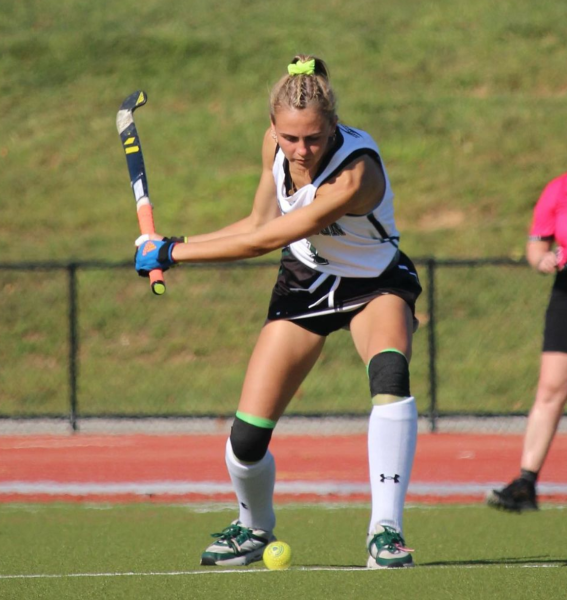 Gladstein stands out as the leader of the attackers, and her fellow attackers are taking advantage of the opportunity to learn from Gladstein, especially Braziel who converted from defense to attack midway through her career. She says that her conversion to attack could not have come at a better time thanks to Gladstein.  
"Everything that I learned [about offense] came from her," Braziel said. "She sat down and showed me the press, what to do in every situation. She showed me all of the forward movements and how to frame the cage correctly. She wanted to go the extra mile to make sure I was on the same page as everyone especially since me and her get put in the same center forward position." 
According to Braziel, Gladstein has shaped the approach to scoring for what is now a hungry and aggressive Mustangs offense. 
"Ever since I have been here, we did not have many people that were hungry to score," Braziel said. "We needed someone to help us score. By her scoring so much, it makes other people want to score too." 
When it comes to offense, Gladstein is all about staying aggressive and taking a shot but doing it without making it look fancy. 
"Something that I have been bred to do is take fancy shots, whether it is a huge backswing or forehand swing," Gladstein said. "Something that coach Kyler [Greenwalt] and I have been working on is just taking the shot. I feel I have been really successful in a way that I feel comfortable now just taking a shot in anyway possible."  
First-year attacker Abry Klinger has taken notice of Gladstein's "take a shot" approach, but it sneakily sets up other opportunities for other players on the offense to score. 
"Whenever you give her that open space, she takes her shots," Klinger said. "She encourages other people to take shots, to set up any of her shorts, or take a rebound from her shot. She is taking a shot for the team but she is also setting up an opportunity for somebody else who is in the right position." 
Leaders are expected to have great knowledge of the game, and Gladstein's peers all agree that is her field hockey IQ is through the roof. The DI experience that she has brought to DIII Stevenson University has positively contributed to the team, but her coaching position at Freedom field hockey field hockey has taken her knowledge a step further.  
"Coaching shows me the other side of field hockey," said Gladstein, who coaches field hockey players ages 12-14. "Those girls teach me things. I feel that coaching has impacted my leadership style because you have to be a role model for the girls. We have fun at practice but we also have to learn and do what we have to do. Keeping them focused and not being scared to speak up is something I've learned while coaching. 
"I watch these girls and see what they need to work on, but also what I need to work on," she continued. "I watched the girls improve so much and the small things they do make me want to coach more. I want to be able to share my knowledge and grow the game to the younger generation."  
Gladstein's Mustang career has not been long, but it has been historic. She has enjoyed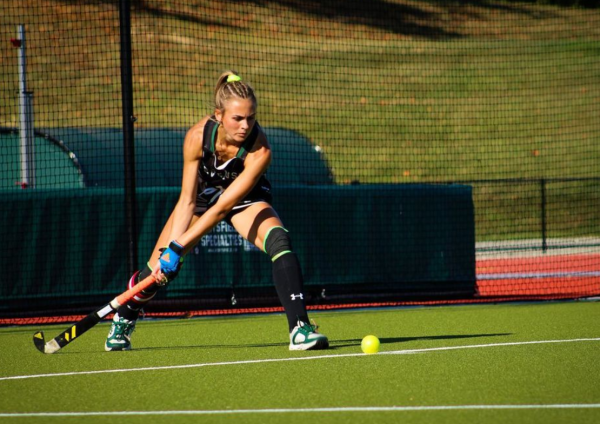 what she has been able to accomplish during her time as a Mustang. 
"I've been trying to get that one season, my best year of hockey, and I do think it is right now," she said. "This is me playing field hockey, this is what I've grown up doing, this is the field hockey player that people know." 
Gladstein's personality and play on the field has been well received by her teammates and coaches, and they have returned the favor for Gladstein. From her roommates/teammates Meghan Huey, Rylee Leekway, and Nicole Ziegler to her other teammates to her coaches, Gladstein has felt every ounce of support from everyone within Stevenson field hockey and Stevenson University. 
"I do love the team," she said. "It was hard at first, but the team was very welcoming and I am very thankful that they were there for me in my hard times." 
Gladstein joined a highly touted class when she arrived at Stevenson, one that accepted her immediately and clicked well with her on and off the field right off the bat. She had this to say to her fellow seniors, whose senior day is approaching this Saturday. 
"The senior class, if I can thank them in anyway, thank you for taking me in," she said. "I needed that joy of having people who care. I cannot even describe it; they are the best people ever."