Stevenson University's women's lacrosse team may have had its ups and downs this season, but since the beginning of April, the team has remained positive and motivated.
For the past two years, the Mustangs appeared in or won the MAC Commonwealth championship. This year, the team has the same expectation. Though the team's overall record is 6-7, they are 4-0 in the MAC Commonwealth Conference.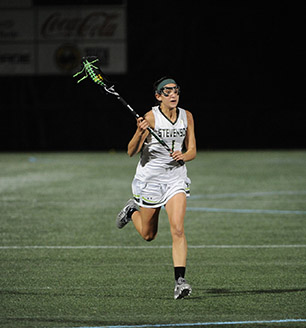 On April 16, Stevenson defeated Albright College 19-13, extending the Mustangs' winning streak to four games. Senior Shelby Walter scored a career-high four goals while teammates Carli Bafford, Olivia Monteiro and Brady Heher combined for twelve goals.
Head coach Kathy Railey and Brady Heher agreed that the team's focus has been getting to the MAC Championship. With that motivation, the Mustangs have been hard to stop, and they know what it takes to finish. Stevenson is currently tied for first place in the conference alongside Messiah College and Lebanon Valley College.
The Mustangs are expecting to be challenged especially on April 20 against Messiah College. This game is vital for the Mustangs; the team has a rivalry with Messiah. Two years ago, Stevenson defeated Messiah in a 13-12 victory for the Commonwealth championship.
"We all know how important conference play is in order to get to the MAC finals and then going to NCAAs, especially for the upperclassmen and sophomores. It was not fun losing last year in early May," Heher said. Last season the Mustangs lost that same conference championship game 11-6 to Messiah.
With nothing but four conference games left — against Messiah, Lebanon Valley, Hood and Widener — the strategy is to take one game at a time. That has been the mindset since the beginning, and it will continue.
"We have just been focusing on each game knowing that we need these wins to eventually be in the MAC championship game," said Heher.
The Mustangs will face Lebanon Valley on April 23 at 1 p.m. and Hood College on April 26 at 4 p.m.