Located in the Woodholme Center Circle about three miles from the Owings Mills campus, Bagby Pizza is the perfect location for a college student on a budget to stop by for a quick, affordable, "minimal yet comprehensive" pizza or salad.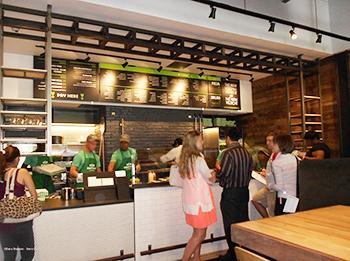 With an extensive selection of seven cheeses (including vegan), eight greens and grains, four sauces and over 30 toppings, everyone will be able to find or create an enjoyable meal. Customers have the option of choosing a signature pizza or salad from the menu or customizing their own.
Whenever possible, Bagby's ingredients are purchased directly from local farms. In addition, all of their dressings and salad toppings are freshly made with no chemical stabilizers, preservatives or GMO products of any kind. The 10-inch (seemingly bigger), three-and-a-half minute pizzas are generously piled with all of the desired toppings requested, and the salads are plentifully packed to the top with the freshest ingredients.
Though the meals are fast, customers can taste the quality and effort put into making sure each ingredient is perfect. Each pizza is made to order, and the chance of finding even a slightly brown piece of lettuce is slim.
Finish off a meal with a seasonal soup added to to an entrée salad for just $2.50, or a side salad can be added to a pizza order for $3.50. The restaurant also offers a seasonal dessert and chocolate chunk cookies for those with a sweet tooth. Have a fresh-squeezed, homemade lemonade or fountain drink. Customers have the option of dining in or carrying out. Though the environment is extremely fast-paced, it is equally as friendly because of the smiling and conversational staff.
Drop by to place an order on Mondays through Saturdays from 11 a.m. to 10 p.m. and Sundays from 11 a.m. to 9 p.m. at 1809 Reisterstown Road #136 in Pikesville, Md., or call ahead at 443-379-0566.