The Stevenson University campus stores, located on both the Owings Mills and Greenspring campuses, are stocking up for spring and getting ready for the annual book buyback, as students are preparing for the end of the semester and finals.
The Greenspring college store manager, Sylvia Schiaffino, says students should look forward to the end-of-the-year sale beginning April 25. All clothing and gift items will be 25 percent off, while Under Armour products will be 15 percent off. However, the sale excludes textbooks, electronics, food, graduation items, and items with the price already marked down. This is a great opportunity for students to get those last-minute spring and summer clothing items before heading home for break.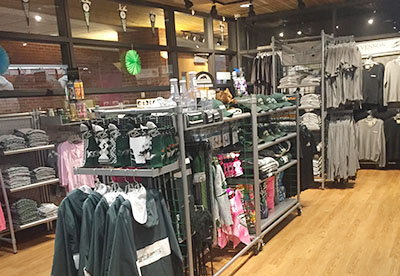 Book buyback is one of the largest college store events that occurs in the spring. This is an opportunity for students to sell back their used textbooks from the current or past semesters. Book buyback will occur during finals week, May 9 through May 13, on both campuses. The Saturday after finals, May 14, the last buy back day will be held on the Greenspring campus only. Schiaffino also wants to remind students that they cannot sell back their rented text books; those are to be returned to the Greenspring book store no later than May 14.
The store is currently carrying some new spring clothing items, which students can pick up at either the Owings Mills or Greenspring campus store. Items including spring jackets, shorts, and tank tops. These items also will be featured in the end-of-the-year sale. Stevenson sophomore, Kamica Price, said that she liked a lot of the new spring clothes, and that she is always "excited to see what will be new in stock."
Sweatshirts and sweatpants are some of the most popular college store buys, according to Schiaffino; however, the hottest clothing items change as the year goes on. While jackets and sweatshirts may have been top sellers in the fall or winter, sports paraphernalia is a year-long top seller and becomes even more desirable with the start of spring sports. Under Armour clothing also seems to sell well, said Schiaffino.
Students should also know that the stores are open all summer long and are regularly restocked with new summer clothing and gifts.For more information on the date and time of book buyback, students can check the book store website.