After a sub-par showing at home in the Piney Branch Invitational, Stevenson's golf teams hit the green, straightened up their swings and won the Middle Atlantic Conference (MAC) tournament. Held in Hershey, Pa., the tournament took place April 23-25, with the men playing April 23 and 24, and the women playing April 24 and 25.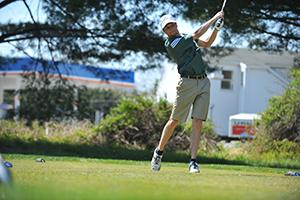 After winning the MAC Commonwealth title in 2013, head coach Chris Ramer had high expectations this year for both teams. "You do not win a two-day tournament on the first day. After the first day, you put yourself in position to win if you play up to your potential," he explained.
On April 23, the men finished the day shooting a total of 312 (+28), which put them in first place with a 20-stroke lead over Lebanon Valley. Individually, freshman Luke McKeogh led all golfers with a 75 (+4), while Austin Fuglestad was second, shooting a 77 (+6). Freshman Zack Potten rounded off the top three for Stevenson, shooting a 78 (+7).
After a good night's sleep, and a hotel breakfast that Fuglestad said was less than "a breakfast for champions," the men set out to finish what they started on day one. Stevenson shot 322 on the day, finishing with a second-round score of 634 to hold off Lebanon Valley (644), and claim the team title.
The Mustangs also picked up several other awards. Ramer was named the MAC Commonwealth coach of the year, while McKeogh and Potten were named MAC Commonwealth co-rookies of the year. McKeogh and Potten were also named to the All-Conference First Team, along with Fuglestad.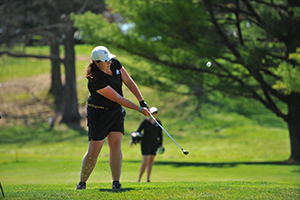 The women won their second-straight MAC Championship by 27 strokes over Eastern University the next day; they finished with a two-day score of 741. Senior Alicia Greene and junior Emily Haas finished tied for second overall, two strokes behind the eventual tournament champion, Lebanon Valley. The two women, Greene and Haas, were named to the All-Conference First Team.
The women will next play at Bay Oaks Country Club in Houston, TX, in the NCAA Division III women's golf championship, May 10-13. The men will head the NCAAs held at the Midvale Country Club in Rochester, N.Y., during the same time.