For the second consecutive year, the Stevenson baseball team have made it to the Middle Atlantic Conference (MAC) tournament. They swept Albright in their final series of the season to secure the fourth spot in the conference tournament May 5, against Alvernia University.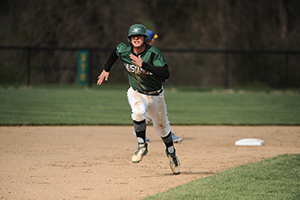 The Mustangs finished the regular season with a record of 20-20, and a 11-10 record in conference. This placed them fifth behind Alvernia, Widener, Messiah and Arcadia. Due to NCAA violations, Arcadia is under a post-season ban, which allowed for Stevenson to jump up a spot and for the tournament.
"Making the MAC tournament has been one of our goals since the season began, so to accomplish that is definitely something to be proud of. Regardless of how we got there, it doesn't matter. All that matters is we are there and we believe we can make some noise," said sophomore catcher Jake Dimon.
Junior Jake Hall has enjoyed a solid second half of the season as a key member to the team. The centerfielder leads the team in home runs with seven, while hitting a .323 batting average, according to gomustansports.com. His seven homeruns have placed him at third in the conference. His fielding percentage is .966, according to gomustangsports.com.
"Our graduate assistant, coach Joe, really helped me with my swing. I started seeing the ball a lot better, which always helps at the plate. A lot of little things all clicked at the same time allowing me to hit the way I am now. I am definitely looking forward to the upcoming conference tournament," said Hall.
Hall was named MAC Conference player of the week as well as Division III South player of the week midway through the season. During the week in which he received both honors, Hall hit four home runs, drove in six runs, and had a .438 average in the five games that week.
Senior Alec Romanowski leads the team with innings pitched at 73.2 and five wins. His 73.2 innings pitched have him at second in the conference. Freshmen Chris Perez has four wins, and is tied with Romanowski for the most complete games, each having two.
The Mustangs take on Alvernia on Thursday, May 4, at 4 p.m. in York, Pa., to open up the conference tournament, which is double elimination. If Stevenson wins the MAC title, they would clinch an automatic bid to the NCAA tournament.
However, senior Trevor Fitzsimmons is just taking it one game at a time. He stated, "Of course we want to win and play on the national stage, but we have to just take this one step at a time. If we can consistently do the little things right each play, then I think good things will happen."