The Stevenson community celebrated the opening of the Kevin J. Manning Academic Center on the Owings Mills North campus with a ribbon-cutting ceremony, speakers, food and giveaways on Aug. 30, 2016. The new name was announced at the ceremony and honors Dr. Manning in his last year as president of the university.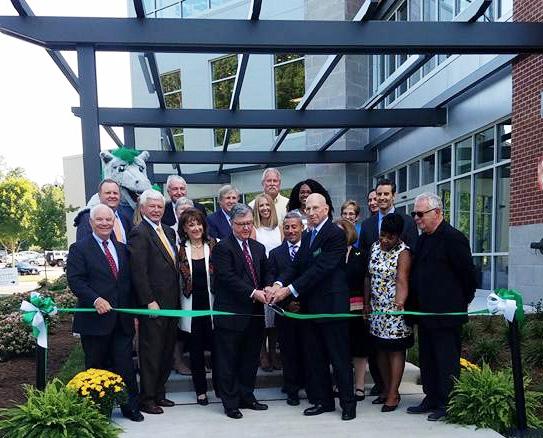 "In recognition of all Dr. Manning has done, it is only fitting that we name this spectacular building in his honor," said James Stradtner, Esq., CFA, chair of the Stevenson University Board of Trustees.
Students, faculty, staff and community members joined special attendees at the event. Government representatives of the area, including U.S. Senator Ben Cardin, U.S. Congressman John Sarbanes, Maryland State Senator Bobby Zirkin and Maryland State Delegate Adrienne Jones, offered congratulations on the newest addition.
Howard S. Brown, chairman of David S. Brown Enterprises, Ltd., recalled his involvement in the development and expansion of the Owings Mills campuses, including his renovation of the new Academic Center. He has constructed buildings including residence halls and the Brown School of Business and Leadership for the university, and the renovation of the new Academic Center is his latest design.
The building was previously occupied by Shire Pharmaceuticals, and served as its factory and warehouse. With the renovations, the 200,000 square-foot building now holds a nursing simulation lab suite, 25 laboratories, a SOLVE center, dining services, a learning commons, sewing and garment construction spaces, multiple classrooms and computer labs.
"Every person I have talked to loves it," said Claire Moore, vice president of student affairs. "This is something so special."
Two of Stevenson's seven schools were renamed to honor gifts from donors: the Sandra R. Berman School of Nursing and the Beverly K. Fine School of the Sciences. Both schools are housed in the new Manning Center.
"It is a great honor for us to be opening the building today," said Dr. Manning.
Students from the schools of nursing, the sciences and design will have classes in the new space, Stevenson's largest academic building to date.
Many in attendance conveyed their excitement about the new building:
"I am very excited to welcome students here and to see this building full." –Dr. Meredith Durmowicz, Dean of the School of the Sciences
"I think this building came out great. It is a great day for Stevenson." –Jeff Kelly, Associate Vice President and Dean of Students
"It has been a long time coming. It has taken a while, but it was worth it." –Maumi Cannell-Chatterton, assistant to the Vice President of Student Affairs.