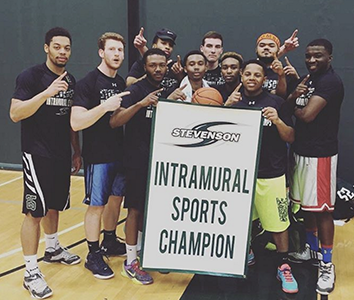 Stevenson University's intramural sports program officially starts its fall season on Sept. 18. The first wave of sports are beach volleyball and flag football, followed by indoor soccer and indoor volleyball later in the semester.
Students are often looking for ways to stay fit and active while in college. Some students find success working out at a gym. Others find success playing on a varsity or club sport, but that leaves students who want to try a new sport, may not be good at a sport, or do not want to commit to weekly practices with few options. Intramural sports provide both competitive and non-competitive sports to all students, faculty, and staff.
Craig Leduc, the assistant director of campus recreation, said the goal of the intramural sports program is to, "offer as many different sports as possible. We want it to be for anyone, so it's not focused on just one sport."
BECOME A MEMBER OF THE TEAM
Participants register online, create a team, and then invite their friends to join their team. Once a team is registered and has enough players, participants will receive a schedule of all their future games. Greg St. Clair, a three-time intramural sports participant at Stevenson University, said his favorite part of intramural sports is seeing friends play sports who normally wouldn't be seen playing sports because "that makes it a lot of fun." Participants who do not have enough interested friends to make a team can register as a free agent and join any team that needs players.
The program aims to provide "good quality and variety for all students," Craig Leduc said. In addition to the fall semester, the intramural program will have more sports in the spring semester which will include dodgeball, softball, and basketball.
GET INVOLVED
Announcements for intramural sports can be found on the SUNOW Portal by clicking the "Student Life and Campus Services" section and then clicking "Campus Recreation." Students can find more information by visiting the intramural sports program website.