Finding the perfect professor is an important aspect in choosing classes to make sure students enjoy and pass all of their classes. RateMyProfessors is a review website that was founded in May 1999, and is run by mtvU, MTV's college channel. The site has over 15 million ratings of professors from over 8,000 schools worldwide.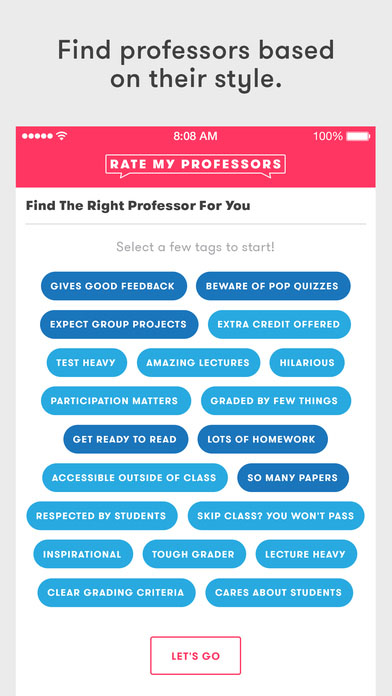 RateMyProfessors is not only a website but also an app that is free to download on any iPhone, as well. The app makes finding the perfect professor easy. When users open the app, they have to create an account by typing in their schools and majors. From there, searching for information is easy and fast.
Users must use their student emails to log in. Once users are logged in, the app has multiple tags that help users find specific characteristics in a professor, such as humor, amazing lectures, lots of homework, extra credit and caring. Another way to search for a professor is by clicking on "View All Departments" and selecting a particular department's professors.
Once users select a professor's name, there is a section for the professor's overall rating, level of difficulty and polls that ask students whether or not they would take the professor again. Users can select "Comments" to read reviews from students who have already taken a class with any particular professor.
There are a few disadvantages to this app. One is that comments can be biased, since students are stating their opinions about a certain professor and a class. Often students post their ratings after they have received a poor grade from a teacher, but rarely do students post about excellence. Another disadvantage is that users must be connected to the internet in order to use the app from their phones.
With this app, students can now check some opinions about which professors will be perfect for them when they are making their schedules. While it may not be a perfect evaluative system, for some students it is a big help.