Men's soccer welcomes new head coach
Following a 5-12-1 season in 2015, the Stevenson University men's soccer team welcomed a new coach for their 2016 campaign and is looking to return to winning form.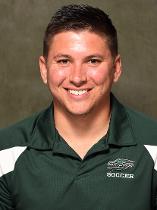 Andrew Bordelon became the seventh head coach of the team since its beginning at Villa Julie. Prior to coaching at Stevenson, Bordelon had United Soccer League (USL) Premier Development League coaching experience as he was the head coach for then Springfield Synergy FC, who has since been acquired by Saint Louis FC. He led the club to its winningest season in program history, according to gomustangsports.com.
In 2013 Bordelon he led Westminster College (Missouri) to the round of 16 in the NCAA playoffs, which was the deepest tournament run in the school's history. That year, he was named the NSCAA Central Region Coach of the Year. Bordelon came to Stevenson University from Westminster College where in three seasons he led the team to an overall record of 41-20-2.
A new start is just what the Mustangs need and the players believe that the young coach is a good fit for the task. "Coach Bordelon helps us adapt to his new system and is up to date with how the game is changing," junior defender John Hart said.
Despite a tough start to the season, Bordelon knows his team can bounce back "We don't make any excuses for our performances, and we hold ourselves accountable. We haven't put together a full 90 minutes yet," Bordelon added.
Adjusting to new surroundings and a new team is always a challenge at the collegiate level. The Mustangs are currently 0-7-1, with 11 games remianing on the schedule. Many players are confident in their new coach to lead them to victory in the coming weeks. Hart is one of those players. "He connects well with the team because he has good communication skills, and he is thorough in his explanations on tactics," Hart said.
The team, composed of 10 freshman and 25 upperclassmen, has a good balance of youth and experience. "We had quite a bit of freshman play in the first few games, and that can be difficult in your first collegiate game," said Bordelon.
The team lost their top two goal scorers from the previous year, Reid Hawkins and Zachary Martin, but returns younger talent with players like Iliyas Mirza and Colin Horne, both who are current sophomores.
Mirza leads the team in scoring with four goals, and the young talent on the team is a good sign for the new coach. The team also returns senior goalkeeper Michael Tringali, who played in seven games last year and has started all eight games so far this season for the Mustangs. "We are doing what we can do to continue to get better every day, and that's what we are focused on," said Bordelon.
As of Sept. 22, the team is 0-7-1 overall, still looking for their first win, though Middle Atlantic Commonwealth (MAC) Conference games have yet to begin. The Mustangs travel to Widener University on Oct. 1 for their first MAC Commonwealth matchup, but will return to action at home on Saturday, Sept. 24, to face Wilkes University at Mustang Stadium at 5 p.m.
Leave a Comment
Donate to Stevenson Villager
Your donation will support the student journalists of Stevenson University. Your contribution will allow us to purchase equipment and cover our annual website hosting costs.