The Hunt Valley Towne Center has long been known for its luxury shopping, but now it is getting a reputation for its new luxury apartments called the Avalon at Hunt Valley. The apartments are located at the east end of the shopping center in Hunt Valley, Md., on a 6.5 acre parcel of land.
The project includes a five-story building with 332 upscale apartments, adjacent to the Pier 1 retail store, according to the Baltimore Sun. Construction began in fall of 2014, and is nearing completion. Apartments are now available for rent.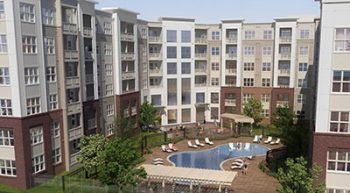 The Avalon apartments have four different styles from a studio to a three-bedroom living space. Amenities include a full gym, a pet spa, a pool, a dog park and a resident game room/lounge. Other amenities include outdoor courtyards with lounge seating, barbecue grills, fireplace and outdoor kitchens; an indoor children's play area; bike racks and storage; and garage parking.
These apartments in a luxury area are perfect for commuters of any kind, since they are just a five-minute walk to the light rail. Apartment rental prices start at $1,480 and escalate to $2,240 monthly. For all the amenities offered, and for the convenience and lifestyle that the location presents in Hunt Valley, the price in this smoke-free community designed with sustainability in mind may be worth it.
Of course, the Hunt Valley Towne Center is a highly traveled area. From the convenience of having the public light rail in the area to popular shopping and activities at Wegmans food market and the Regal Cinemas, the traffic can be a challenge. Additionally, every Saturday morning the event, "Cars and Coffee," takes place from 8 until 10 a.m. During this time car noises and lots of activity may disrupt easy living since the activity is held right in front of the apartments. Other events such as Race for the Cure and Toys for Tots are also sponsored by Hunt Valley Horse Power and occur in the immediate area.
Considering these advantages and disadvantages in a decision will be important. Living in a high-end space, renters may expect better quality of life and perhaps more privacy than Hunt Valley Towne Center offers, but there's a lot to like about the Avalon.