The annual Founder's Day celebration at Stevenson University will take place on Oct. 3, honoring the 69th anniversary of the institution.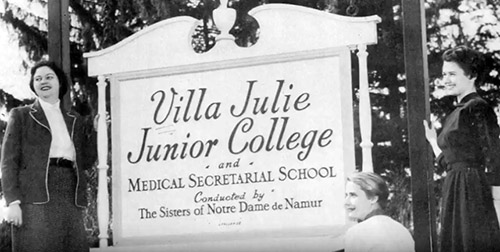 Founded as Villa Julie College by the Sisters of Notre Dame de Namur in 1947, the once Catholic, two-year institution for women was transformed into a four-year, co-ed, secular college by 1984. The college was renamed Stevenson University in 2008.
On Oct. 1, 2007, the first Founder's Day was celebrated as a way of commemorating the institution's core values: community, integrity, excellence and learning.
Every Founder's Day, a series of multi-campus events occur throughout the day. Kicking off the day at 7:30 a.m. is a continental breakfast on each campus held in the Manuszak Center on the Greenspring campus, the School of Business and Leadership lobby on the Owings Mills Campus and the Kevin J. Manning Academic Center on the Owings Mills North campus.
Breakfast will be followed by a traditional Catholic mass with the Sisters of Notre Dame de Namur at 9:30 a.m., and the annual tea with the Sisters after. Space is limited at the tea, so those who would like to attend must RSVP to Sue Bonsteel.
The archives in the Greenspring library will be open from 2-3 p.m. for those interested in perusing Stevenson history. According to Sara Ballesteros, administrative coordinator in the President's Office, additional surprises will take place on all three campuses throughout the day.
FOUNDER'S DAY TALENT SHOW
One of the celebration's highlights is the annual Founder's Day Talent Show that will be run by "Campus Superstar Live." This professional production
company has been contracted to run the show. The event will be hosted by a professional comedian and run with American Idol style through the lights, effects and on-spot editing.
Hope Miller, assistant director of student activities, said that the show this year will be "very fast-paced and exciting." From singing and dancing to juggling and hula-hooping, all acts are welcome to perform. The performances will be judged by the audience using voting slips instead of a judge's panel. Miller describes the show to be "by the students and for the students." ­­
Auditions will take place on Sunday, Oct. 2, from 1-4 p.m. in the Inscape Theatre on Greenspring. The talent show will be held the next day, Oct. 3, at 7 p.m. in the Inscape Theatre. Doors open at 6:30 p.m. Tickets are free and can be picked up on Mon., Oct. 3, starting 9 a.m. from The Rock or Green Zone with students' ID cards.