The men's and women's golf teams both began their seasons with much traveling to courses in both Virginia and Pennsylvania.
Coach Chris Ramer starts his 11th year with both teams, and admits that the players' seasons have been very hectic, but that has not held them back from playing above their potential.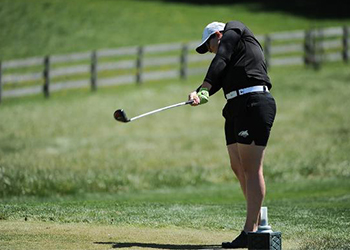 At the Gettysburg Invitational on Sept. 24, the men's team came in fourth, relying on freshman Matthew Shur who shot a 76, tying for fifth place overall, as the Mustangs shot 318 for the tournament.
The week before, the women's team placed second at the McDaniel College Fall Invitational at the Bridges Golf Club. Junior Morgan Wirtz and freshman Julia Kline led the Mustangs with a score of 79 and 82, adding to the team total of 341.
Both teams are gearing up for the Stevenson Fall Invitational at Piney Branch Golf Club in Upperco, Md., with the women teeing off on Oct. 8 and the men a week later.
Ramer explained that his goal of being a coach is to see his players through a successful program, graduate and have a career. His work includes far more than just a leisurely a walk on the fairway.
Play and workouts are not suspended in the off-season either. Junior Austin Fuglestad said, "From fall to spring, we hit the gym or play some golf if it is not snowing." They still practice and try to get better, rain or shine.
According to Ramer, a game is an average of five or six hours. If the teams are traveling nearby for a game, they come together beforehand for an hour practice and warm up, and then head out for their rounds of golf. If their game is away, they travel the day before, get settled in a hotel, and play the following day. After the round is over, no matter the length of the drive, they load the bus and head back to Stevenson.