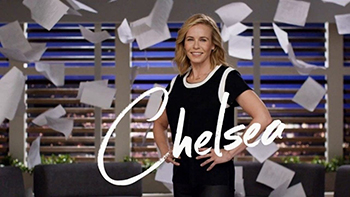 At one point in time, Chelsea Handler had the most watched show on the E! Network. Now, she's back again with another talk show on Netflix called "Chelsea."
This new show has allowed her to become the ringmaster, creating an opportunity to discuss important issues. Handler uses her clever and provocative humor to bring audiences together and pay attention to real world issues.
"It's not your traditional talk show in the fact that it's not the same format every single night. It's different things," said Handler. From celebrities to public figures, "Chelsea" tackles issues regarding health, education, politics, drugs, relationships and more.
Guests ranging from Gloria Steinem to NASA's Bobak Ferdowsi inspire people to achieve their dreams and reach their potential. Handler recently attended the Democratic National Convention (DNC) and met with various political figures to discuss the important issues in this election.
When Handler was on the E! Network, she wasn't able to make decisions about what guests and topics would be covered. "Chelsea Lately" was superficial and embodied the shallow theme of the E! Network. Handler was getting sick of covering celebrity gossip and drama stories every night, so she finally quit after seven years on air.
"Chelsea" is the first Netflix talk show that enables people to watch when they want to, allowing the program more accessibility to today's on-the-go binge watchers.
Handler's humor may not appeal to everyone, but "Chelsea" is worth the watch. She wants to create a platform that doesn't take itself too seriously, but also offers a voice on important topics.
I can't recommend this show enough. Being a longtime fan of Handler, I can feel the passion that she has put into this show
Viewers who have an interest in comedic talk shows that tackle serious issues might want to give the show a chance. New episodes of "Chelsea" are released every Wednesday, Thursday, and Friday on Netflix.