The #unbottledrevolution has taken over!  A new packaging style focused on saving the earth one box at a time is beginning to be sold everywhere.  Reverse osmosis water that is free of harmful chemicals and impurities, comes from a community water source and is 100 percent recyclable paperboard is knocking plastic bottled water out of the park.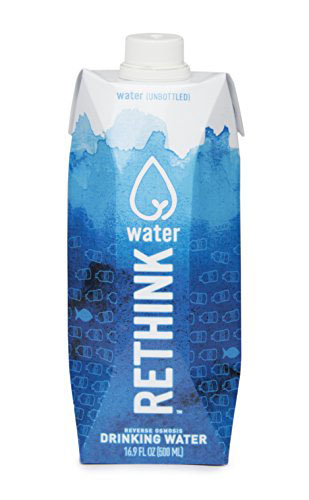 RETHINK Water is a boxed water start-up company based in Ellicott City, Md.  Its mission statement,  "Delicious water.  Reduce plastic.  Give back to the world we love," is propelling RETHINK Water into the forefront of water sales in Maryland.
Founders Matt Swanson and Chris O'Donovan met at Washington College in Chestertown, Md.  After graduating in 2009, Swanson and O'Donovan began working for major corporations Google and Body Armor.  They then reconnected and realized they shared a vision of eliminating the use of the plastic water bottles that litter the earth today.
Along with helping the environment, RETHINK Water strives to help local communities in the state of Maryland.  Most recently, RETHINK contributed time to re-building and raising money for Ellicott City after the tragic flood that swept down Main Street.
RETHINK has gained the attention of the Baltimore Ravens and two Major League Baseball teams, the Baltimore Orioles and the Washington Nationals. The product has been televised in the dugout with both teams. RETHINK was also featured with Dennis Pita as he played golf for charity. It has been featured in many local newspapers and magazines as well, including the Washington D.C. Patch and Thoughtfully Magazine.
Currently, RETHINK Water can be found at Target, Wegmans, Roots, Yes! Organic Market and can be purchased on Amazon for $24.99 per case. Two possible concerns about purchasing RETHINK water is that it is more expensive than the average bottled water, and it is somewhat difficult to find at a neighborhood grocery store, such as Giant or Safeway.
For more information about RETHINK Water, visit the website or follow the company on Instagram (@rethinkwater), Twitter (@rethinkbrands), or like the product on Facebook (@rethinkwater).
Be on the lookout for the #unbottledrevolution.