With October and conference play looming, the women's soccer team is trying to get the gears spinning, having already faced a challenging start.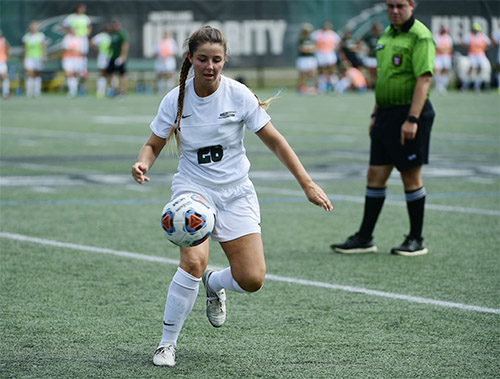 Hurricane Hermine postponed one game and forced two trips to Gettysburg because of severe storms. In addition, blistering heat created some challenges for the team trying to get their footing in a very tough non-conference schedule.
"It's not been a rough start, but it's been a little shaky," said Graeme Millar, head coach. A slow start is not a concern for Millar, as the team is focused on stealing some wins in September.
This year's schedule features games against regionally ranked teams including Salisbury University, John Hopkins University, Catholic University and Haverford College.
"Playing such a challenging non-conference schedule kind of sets us up for our season," said senior Jessica Demko.
Last season the Mustangs struggled out of the gate with a 3-8 non-conference record before doing well in conference play and eventually making the post-season. Avoiding last year's issues is on Millar's mind as the season gets underway.
Millar said he is working on trying to get the team to gel, developing connections between players on the field and improving communication. The team got off to a 1-3 record, and Demko says they adjusted their game plan after early back-to-back losses.
"We had a little bit of difficulty with the formation, and then we adjusted, and I feel like it's a better fit now," Demko explained.
Since that adjustment, the Mustangs have gone 2-0-1. The girls beat Frostburg University on Sept. 16, then followed with a big win beating Salisbury University on Sept. 21. After Stevenson junior goalie Tiffany McKee was named the Middle Atlantic Conference (MAC) Commonwealth Defensive Player of the Week recording 17 saves in two games.
The Mustangs had a hard-fought game with Haverford College that ended 0-0 in double overtime on Sept. 24. Their final non-conference game is against Johns Hopkins University, the 19th-ranked team in the country, on Sept. 27.