Twice-a-week business breakfasts have become a staple in the Brown School of Business and Leadership for several semesters.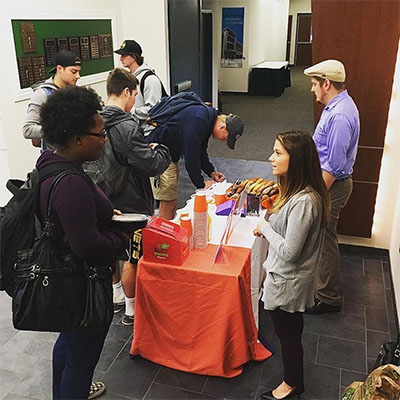 On Wednesdays and Thursdays from 9-11 a.m., employers set up shop in the lobby of the building, giving students the chance to look for internships and jobs over breakfast.
Jennifer Wheeler, the new industry specialist for the school of business, helps plan and manage these breakfasts. The purpose of this event is to create an informal environment for students to network with some of Stevenson's employer partners, including Enterprise Rental Car, Mary Kraft (Sept. 28), Classic Catering (Oct. 5), Prudential (Oct. 13), General Dynamics I.T. (Oct. 20), Northwestern Mutual (Nov. 10) and many more business and technology companies.
These events provide an opportunity for students to learn about different companies in a casual setting as well as a chance to offer their resumes if they are interested.
The series has been well-received, according to Wheeler. Enterprise visited Stevenson the week of Sept. 19, and the feedback from that company indicated they appreciated the informality of the setting and the openness with which students could interact with their representatives. Students also learned about the kind of jobs and internships Enterprise offered while enjoying their free breakfast.
Most employers make the visit in order to get brand recognition and explain who they are and what they do, said Wheeler. The Office of Career Services posts information about all visits on Handshake so that students can plan visits with organizations of interest.
Representatives from Mary Kraft, a staffing solutions company, explained several different things they typically see in students looking for a job or an internship. Students who attend events like the Business Breakfast find their careers early and make a smooth transition from college to work life. Students who become adept at networking at smaller events like these find additional success at larger networking experiences.