With only Middle Atlantic Conference/Commonwealth  games remaining, the women's soccer team has reeled off two solid shutouts and a double overtime tie to get back on track.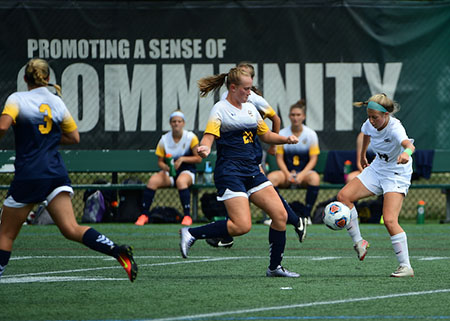 After suffering a 6-1 loss to non-conference opponent Johns Hopkins University on Sept. 27 and losing junior Kellen Wittman, one of the team's most productive forwards to an ACL tear, the Mustangs are relying on a wide variety of attack players to fill the gap, since Wittman led the team in scoring the past two seasons.
Coach Graeme Millar said when they lost to Hopkins there was no fight, no fire in their eyes and the team just didn't seem to have the willingness to win. That game, he said, was a wake-up call for the team.
The team bounced back with two big conference wins, 3-0 over Widener University on Oct. 1 and 6-0 over Hood College on Oct. 4.
"Sometimes you need to get beat down in order to bounce back up," said Millar. He explained that the Mustangs' out-of-conference schedule is so difficult "so the team will be ready for their tough in-conference schedule."
Tiffany McKee has continued to be a stronghold in between the pipes with seven shutouts this season. Junior defender Brittney Celano said, "it's good to know we have a goalkeeper like Tiffany in the cage to help us out."
The team faced Albright University on Oct. 8, in a fierce scoreless match that ended in double overtime. It was McKee's fourth shutout of the season, and she finished with three saves. Against Hood College on Oct. 4, the Mustangs grabbed a 6-0 win with two goals apiece from senior Alexis Siejack and freshman Brianna Christie. Siejack also added an assist in the team's eighth consecutive victory over the Blazers. Other goals came from sophomore Sam Hooker and freshman Karina Lopez.
The team's goal is to be a No. 1 or 2 seed for the Middle Atlantic Conference playoffs and get home field advantage in order to win a bid for the NCAA tournament. "It's all or nothing from here on out," Millar said.
The Mustangs will next face Arcadia University at 1 p.m. on Saturday, Oct. 15 in Mustang Stadium.