It's no secret that after eating in Rockland every day, an alternative to SU meal plans would certainly help those looking for a new way to entertain their taste buds.
Stevenson's meal plans offer a unique opportunity to those looking to experience more than just an average dining hall experience. Besides meal swipes, all meal plans offer additional Flex dollars that can be used at several off-campus participating locations in the Owings Mills vicinity.
Depending upon their meal plan, students can have Flex dollars ranging from $75-$250. Additionally, a simple payment through Blackboard can renew Flex account with more funds.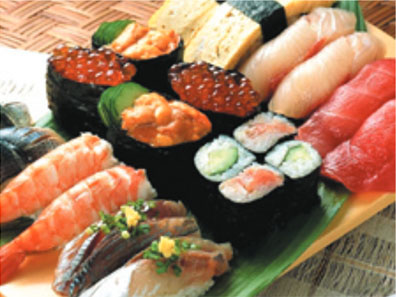 One current Flex participating restaurant is Edo Mae Sushi, only a short walk from the Owings Mills campus. With reasonable pricing, exceptionally fresh produce and a traditionally appealing atmosphere, it's no wonder so many students make their way down the hill to this restaurant.
The menu is extensive, offering over 50 different sushi rolls, sashimi, soups, salads, rice dishes, noodle dishes, and plenty more. A personal favorite is the "Out of Control Roll." This treat features spicy crunch salmon, tuna, white tuna, jalapeño, avocado, with seared tuna, chili garlic and a signature sauce drizzled on top.
Not only are the menu options mouthwatering, but the management also provides exceptional service. Servers are polite and attentive; the service is consistently quick with minimal kitchen prep time, making the experience all the more enjoyable. Edo Mae creates an exemplary eating environment for its customers.
I have regularly suggested Edo Mae to friends and make my way to their Saturday lunch special as consistently as possible. If there's one Flex location that has won my dollar, it's Edo Mae Sushi.
Below is the full list of Flex locations available to Stevenson students.
| | | | |
| --- | --- | --- | --- |
| China Wok | 11299 Owings Mills Boulevard | | (443) 394-0303 |
| Courtney's Bagel Cafe | 11000 Owings Mills Boulevard | | (410) 363-4331 |
| CVS | 11623 Reisterstown Rd | | (410) 526-3509 |
| Dunkin Donuts | 10902 Boulevard Circle #5 | | (410) 363-9893 |
| Edo Mae Sushi | 10995 Owings Mills Blvd. | | (410) 356-6818 |
| Firehouse Subs | 10359 Reisterstown Rd. | | (410) 998-9790 |
| Hummus Corner | 9201 Lakeside Boulevard | | (410) 363-6033 |
| Nino Taco | 10902 Boulevard Circle | | (410) 902-1331 |
| NY Pizza Company | 10995 Owings Mills Blvd. #100 | | (410) 902-1331 |
| Papa Gil's Pizza & Pasta | 11299 Owings Mills Blvd, Suite 109 | | (410) 356-0500 |
| Pie Five | 10900 Boulevard Circle | | (410) 581-7998 |
| Qdoba Mexican Grill | 10450 Owings Mills Blvd #100 | | (410) 356-2077 |
| Sofi's Crepes | 9123 Reisterstown Rd. | | (410) 356-4191 |
| Subway | 10995 Owings Mills Blvd. #102 | | (410) 363-1341 |
| Teriyaki Madness | 9163 Reisterstown Road | | (410) 581-8623 |
| Terri's Cafe | 11409 Cronhill Dr, Suite F | | (410) 356-6468 |
| Vito's Express | 11000 Owings Mills Blvd | | (410) 363-8486 |