While focusing on becoming more competitive in the conference, the Stevenson men's and women's swim teams are confident that they will make it to the championships.
As of Oct. 22, the teams have a combination total of 2 wins and 4 losses, and are pushing for improvements. Julianna Burnett, Isabelle Ramsland, Julia Charen and Natalie Wasicko have been recognized for setting a new school record time of 1:49:09 in the 200-yard freestyle relay at the Oct. 8 swim meet at Widener University. Jaq De Leon picked up an individual win against Frostburg State University on Oct. 22.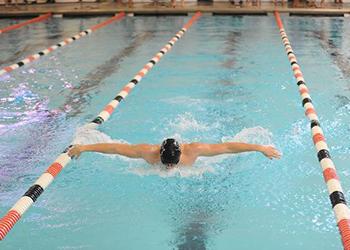 With practices five times a week and a variety of workouts, the teams are sure to start seeing the results that they want, according to coach John Stuhltrager. Despite their focus on results, Stuhltrager said, "It's not about your wins and losses; it's about how you perform at the end of the year."
Stuhltrager explained that the teams spend an average of two hours swimming five days a week in the morning, approximately one hour lifting three days a week and an average hour and a half, two afternoons during the week, swimming.
The coach described the teams as "young but eager" due to their composition of mostly freshmen and sophomores. According to the men's and women's rosters, there are four seniors and one junior between the two teams in addition to the underclassmen. Sophomore Julianna Burnett described the two teams as "determined," adding that they have some amazing talent this year on both the men's and women's sides and that they are ready to surprise everyone throughout the season.
Since the program is fairly new to Stevenson, they are still learning how to work as a team and establish rivalries in the conference. So far, Stuhltrager believes that Lebanon Valley College, whom they will swim against on Dec. 3, is the one to beat. He also hopes that the teams can push to become Widener's biggest rival on the men's side and Messiah's biggest rival on the women's side.
Both Burnett and Stuhltrager are looking forward to seeing individual improvements as the season progresses, and with the season now in full swing, some of those improvements are already showing. Burnett explains that everyone on both teams has been training like they never have before.
The teams' next swim meet is Oct. 29 at Wilkes University.